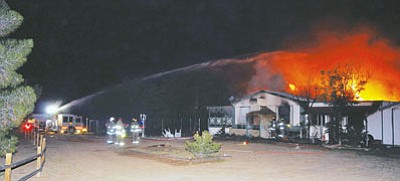 Originally Published: September 20, 2013 6:01 a.m.
GOLDEN VALLEY - A stubborn fire destroyed an unoccupied home in Golden Valley Wednesday night.
More than 30 firefighters with the Golden Valley Fire Department spent more than two hours battling the blaze, which began at about 6:30 p.m. at the corner of Chino and North Santa Cruz roads, according to the department.
Battalion Chief Dave Martin told a photographer the fire was difficult to knock down, with smoke billowing out from the attic and under the doublewide mobile home.
Firefighters, he said, broke holes in concrete blocks in order to get water on the fire.
Fire Marshal Randy Osborn said the cause of the fire and where it started are under investigation. According to Osborn, power, water and propane to the empty home was previously disconnected.
A garage and items inside it were spared.
The home is one of several apparently unoccupied house fires that have occurred in Golden Valley this summer.