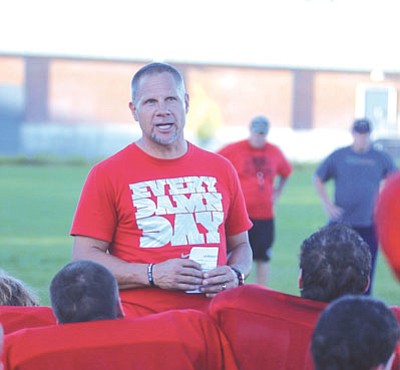 Originally Published: September 22, 2013 6 a.m.
KINGMAN - Eugene Kramer called it.
Toward the end of Thursday's practice, Kramer mentioned that once the Lee Williams football team finds a rhythm and starts with more urgency, the Volunteers would enjoy some success. They did just that, en route to a 26-0 road win at Greyhills Academy High School Friday in Tuba City.
It was Lee Williams' first varsity victory in school history.
"The kids came out and put together some drives," the Volunteers head coach said.
Midway through the first quarter, sophomore quarterback Braxton Burgess had a 40-yard touchdown run. Everything changed from there.
"The way he scored that touchdown run, you could just see the belief factor getting stronger. From that point on, we just started to roll," Kramer said.
They established complete control by halftime, up 20-0. They stuck with their respective assignments. They tackled well and were fundamentally sound. More importantly, they capitalized when they had such opportunities.
Sophomore wide receiver Dallas Morgan had three touchdowns on the night.
Late in the fourth quarter, the Volunteers had time of possession for seven minutes straight. That's when they were able to slam the door shut for the night.
Lee Williams (now 1-3, 1-0 in conference play) will return home to face Williams High School at 7 p.m. Friday.
"We now need to just focus on continuing to get better next week, again," Kramer said. "Williams is very good football program with a lot of speed. We've just got to go back to work and just get better fundamentally in all areas of the game."
More like this story