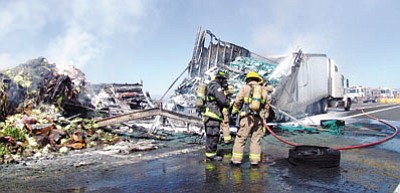 Originally Published: September 23, 2013 6 a.m.
Golden Valley Firefighters responded at 10:53 a.m. Sunday to a fiery collision between two big rigs on eastbound Interstate 40 at the Griffith Road exit about 15 miles west of Kingman.
The rear semi plowed into the back of the leading tractor-trailer and burst into flames that quickly engulfed the demolished cab and spread to the trailer of the semi in front. Golden Valley Fire Chief Thomas O'Donohue reported a debris field over 200 feet long in both eastbound lanes and into the median.
Traffic was stopped completely for over two hours while fire crews extinguished the fire. Both trucks were carrying non-hazardous loads, one of plastic boxes, the other of produce which is clearly visible.
The driver of the rear semi, from California, was airlifted to Las Vegas with traumatic injuries and burns, and the driver of the front semi, from New York, was transported to KRMC along with a passenger.
Officials could not identify which vehicle the passenger was traveling in.
In all, six fire apparatus responded, with two chief officers and one unit from Yucca Fire to assist. DPS and fire officials re-opened the roadway approximately six hours after the collision.
Click for home delivery with comics, grocery deals, inserts, TV listings, coupons and more