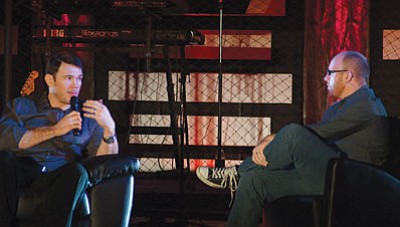 Originally Published: September 24, 2013 6 a.m.
KINGMAN - Forrest Griffin never asked God for help before or during a fight.
Outside the cage, the former and now retired UFC lightweight champ did ask God to make him a better person and he prays to God when loved ones fall ill or when life offers up one of its many crises.
Steve Petrauschke, the lead pastor at Central Christian's Kingman campus, asked Griffin how he reconciled his faith in a loving God with his former profession, which required him to pummel an opponent - or get pummeled - in the violent sport of mixed martial arts.
"Fighting for me was fun," Griffin told an overflow crowd Sunday morning at Lee Williams High School, where the Kingman campus of Central Christian Church worships.
"Fighting didn't test my faith. It tested my mettle," said Griffin, pointing out that U.S. troops go to church.
The husband of Kingman native Jaime and father to two-year-old Ella, Griffin said he joined Central Christian Church at a point in his life when things were going well.
"I had the job I wanted, the woman I wanted, the home I wanted. Things were good and I wanted to walk to God. Eventually, we all go to God on our knees, but I walked to God, reached out and something took hold."
A native of Augusta, Ga., where he served as a police officer before embarking on his stellar mixed martial arts career, Griffin said he became a cop after "promptly flunking out of nursing school."
Griffin joked about his college days.
"I eventually got a degree, but maybe it was just a certificate of attendance. I was there for about seven years."
He enjoyed the patrol aspects of law enforcement, but the paperwork was a drag.
He entered a Tough Man contest because he needed something to do with his off-duty time.
His dream was to fight professionally. Griffin was making $26,000 a year as a police officer and figured if he could earn that much fighting three or four times a year he'd be happy.
Then came season one of "The Ultimate Fighter," the UFC's reality-based television program that featured two teams of fighters living together in a Las Vegas home who would fight one another.
Griffin won all the marbles in an epic battle against Stephen Bonnar. The fight is considered one of the best in the sport's history and both Griffin and Bonnar were credited with helping move the UFC into the mainstream.
Griffin's victory earned him a spot in the UFC's stable of fighters and he would go on to win the light heavyweight championship and become a star of the sport.
Griffin and Bonnar, like most fighters in the UFC stable, are friends. The two families recently vacationed together and Bonnar named his young son Griffin.
They are both hall of famers.
Injuries derailed his career and Griffin retired last February once he realized he would never be the fighter he once was.
He said training was fun, both fighting and gym work, and he even enjoyed running to improve his cardio.
"The hard part is testing your will," he said, and sometimes an opponent would prove to have more will to win than he did.
"I always had a strategy," he said. "Then someone would hit me and I'd forget what the strategy was."
Griffin said his goal was always to win a fight. "In the beginning, a punch to the jaw was a wakeup call. At the end, it was a go to sleep call."
He's got cauliflower ears from fighting, his knees are shot and his memory isn't as sharp as it once was, said Griffin, but his faith is strong.
Parenthood has helped.
"You have to reprioritize your life when you have a kid," said Griffin. "It's not about you anymore, and honestly, I really like it when it's about me."
Parenting, he said, is more difficult than fighting. "You can't step away from parenting," he said.
Griffin said his journey of faith has been rewarding. He said he couldn't put it in one box, but that he always believed in a higher power.
He also believes Christians have a duty to make the world a better place.
"I saw so many things in the world that are wrong," he said. "The Christian mission is to help others. I fail more than I succeed, but I know what God expects of me. Doing the right thing is usually the harder of two choices."