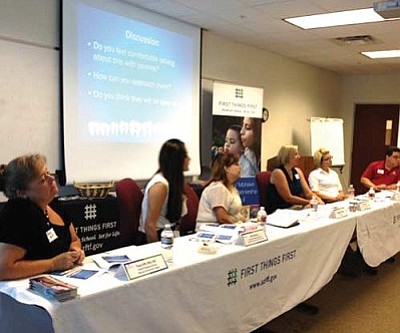 Originally Published: September 27, 2013 6 a.m.
KINGMAN - Oral health problems in infants and toddlers can lead to speech delays and school absences.
Tooth decay, also referred to as cavities, is the most common disease of childhood, said First Things First Child Health Consultation Program Manager Ann Kaskel. She said cavities in baby teeth can cause infections that could spread throughout the rest of the body or result in complicated, costly treatments down the line. Some baby teeth must last until 11 or 12 years of age, with those teeth affecting everything from speech development and self-esteem to the growth of incoming permanent adult teeth, Kaskel added.
More than half of children in northern Arizona have experienced tooth decay by the time they reach kindergarten, according to Maggie Wilcox, a registered dental hygienist and educator in the area of early childhood health. She said tooth decay starts early and progresses quickly in preschool children, with four out of 10 4-year-olds living in Arizona requiring early or urgent treatment.
Wilcox and Kaskel were among the presenters at an Early Childhood Oral Heath forum hosted at the Mohave County Administration building in Kingman last month. First Things First La Paz/Mohave Regional Director Merritt Beckett coordinated the forum and said the intent was to bring health professionals and early childhood providers together to facilitate better oral health habits in young children living in the region.
In Mohave County, the towns of Littlefield, Dolan Springs, the Hualapai Tribe service area, Bullhead City and Fort Mohave have been identified as Dental Health Professional Shortage Areas by the Health Resources and Services Administration. All of La Paz County has been designated a Dental Health Professional Shortage Area.
"That means there's not enough providers for the population," Wilcox said. Normal rates are one dentist for every 3,000 people.
Good habits can help prevent many of the problems before they start. Wilcox said that a large percentage of parents don't think their child needs to visit a dentist when they are so young.
"When I talk to first-graders and ask how many have been to the dentist, I'm lucky if a third of them raise their hands," Wilcox said.
Parents are advised to take their child to a dentist by the age of 1 and every year thereafter.
Other tips include:
• Clean teeth every day. For infants, you can use a washcloth or infant tooth brush.
• Give children healthy snacks, such as fruits, vegetables and nuts, instead of candy.
• Limit sugary drinks, including too much fruit juice, and only allow milk or water in bottles.
• Do not leave babies sleeping with milk bottles in their mouths.
Northwest Arizona Regional Health Center and the Mohave Community College Dental Programs Clinic serve as safety nets for children in Mohave County needing dental services. The Colorado River Service Unit/Parker Indian Health Clinic serves as the safety-net resource in La Paz County.
River Cities United Way has partnered with Kids Little Smiles and Havasu Valley Dental, both in Lake Havasu City, to provide free dental exams, cleaning, x-rays and sealants to children from income-qualifying families. The free services are being funded with a grant awarded to River Cities United Way by Delta Dental.
Space is limited and appointments are scheduled on a first-come, first-served basis. To qualify, a child should be enrolled in grades K-12 and must not have dental insurance covering these services.
For more information, call Ashley Wood at River Cities United Way at (928) 855-6333 or email Ashley@rivercitiesunitedway.org.
Mohave Community College sponsors the annual Give Kids a Smile Day where children not covered by insurance can receive teeth cleanings, fluoride treatments, sealants and oral hygiene instructions. The next event will take place at the MCC Dental Hygiene Program's facility in Bullhead City in February.
MCC's Dental Hygiene Program also offers adult cleanings and exams for $25 and child cleaning and exams for $15, although the services are not meant to take the place of a periodic examination and diagnosis by a dentist. For more information on the program, call (928) 704-7788.
First Things First is a voter-created, statewide organization that funds early education and health programs to help kids be successful once they enter kindergarten. Decisions about how those funds are spent are made by local councils staffed by community volunteers. To learn more, visit azftf.gov.
More like this story