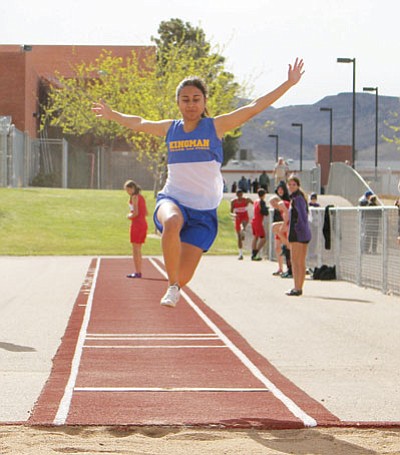 Originally Published: April 6, 2014 6 a.m.
KINGMAN - Cold temperatures, high winds, a trace of snow and some rain on Wednesday meant that it was time for Kingman High School to host a track meet.
"I've been doing this a long time, and though I know we've had good weather days sometime in the past when we hosted meets, I just can't remember one," said KHS coach Bob York. "Still, it was a good track meet."
Kingman hosted six schools at the multi: Lee Williams, Bullhead City Mohave, Laughlin, Lake Havasu, River Valley and Goodyear Millennium.
Millennium won the boys meet with 187.5 points and Kingman finished second with 126. Lee Williams was sixth with 54, which was 33 better than River Valley.
Mohave took the girls meet with 124 points. Kingman was fourth with 89 and Lee Williams came in fifth with 59.
The Kingman boys squad won two events and finished second in five events. Manuel Tadeo won the 110-meter high hurdles for the Bulldogs with a time of 11.13 seconds. Kody Halliburton of Lee Williams finished second in 11.49.
Kingman captured the 4x400 relay in 3:41.26 and was second in the 4x800 at 9:23.50. The Bulldogs also claimed second in the 4x100 at 47.00.
Peyton Cardiff was second in the 1,600 for Kingman at 4:47.59. Taylor Ferrin was second in the long jump with a leap of 17 feet, 11 inches. Steven Bonfield was runner-up in the 300 hurdles, 47.35. Jack Gilliam gave the Bulldogs another second-place award in the shot put with a heave of 44-11.
Lee Williams earned a single first place and came in second in three events, including the 110 hurdles. Giancarlo Narvarte won the high jump at 5-8. McGregor Octave was second in the triple jump, 38-6. Brendon Allred was second in the 3,200 for the Volunteers.
The Lady Bulldogs claimed three firsts and seconds. Kingman's 4x800 relay squad won the event in 11:33.80. Paulina Delgado won both the long and triple jumps. Her long jump was 15-6.5 and she landed her triple jump at 32-7.25. Delgado earned one of the second-place finishes in the 300 hurdles, 53.43.
Amanda Williams earned the other two seconds for the Lady Bulldogs. She finished runner-up in the 1,600 (6:05.9) and the 3,200.
Lee Williams was second in the 4x400 at 4:59.15 to Mohave. It was the only top-two finish for the Lady Volunteers.
Kingman next competes at the Tolleson Multi at 4 p.m. Wednesday. Lee Williams was at the Sedona Red Rock Invitational on Saturday. Results were not available by deadline. The Volunteers' next meet is at 3 p.m. April 16 when they host the Lee Williams Multi.