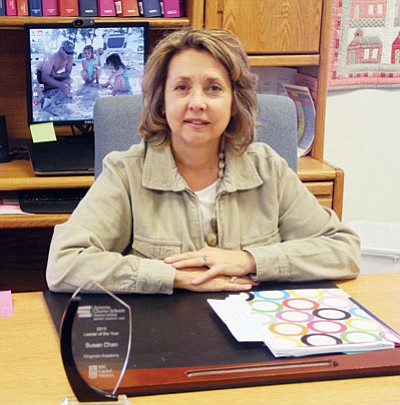 Originally Published: April 6, 2014 6 a.m.
KINGMAN - Finding the right words wasn't a problem for Dean Colvig when he decided to nominate his supervisor for a statewide award from the Arizona Charter Schools Association.
Colvig, special programs administrator for Kingman Academy of Learning, first wrote a passionate cover letter that bragged on KAOL District Administrator Susan Chan. Then he took the time to describe Chan's qualifications in four required categories as he sought to have her named 2013-2014 Leader of the Year among the state's 602 charter schools.
The qualifications he listed were numerous. Colvig wrote that Chan shows presence every day, keeps her perspective at all times, motivates others, fosters teamwork, solves problems objectively, demands accountability, listens intently, relies on data to make her decisions and is approachable as an administrator and a person. In short, wrote Colvig, she is a great and fearless leader for KAOL.
Colvig's effort paid off when Chan was chosen for the honor, taking the title over the other top finalists from Self Development Charter School in Mesa and Paragon Science Academy in Chandler and receiving a plaque. KAOL is a network of four schools serving more than 1,400 students in kindergarten through 12th grade. Chan, who has been there since 1995, oversees more than 150 employees.
"I nominated Susan Chan because we've had very good results with our school grades and I thought we needed to celebrate that," said Colvig. "We had three A and one B schools, and that all comes from what she does here. But when we found out the grades, she pointed back to the staff as the source of that success. I've watched her consistent leadership over the years and I just wanted her to be recognized for it. She's absolutely amazing."
According to the association announcement, Chan is "a strong but approachable leader. She leads by example, and her positive attitude and behavior sets the school's tone. Chan ensures data is behind every decision she makes, and provides teachers with the time and professional development to be successful in the classroom."
ACSA President Eileen Sigmund said she was not surprised Chan won the award, because she has worked with Chan for years and has witnessed her leadership skills. Chan has served as a member of the association's board of directors for seven years. Sigmund said the association looked at how Chan motivates her students and staff, works in collaboration with her team and encourages top performance in the district's schools.
"I've been a huge supporter and fan of Susan for years," said Sigmund. "She is the epitome of what we want in our charter school leaders. She lives her values and leads by example. She has worked to build up her schools and she knows her students by name. Her support of the teachers and staff there is just amazing. Most of all, she constantly strives to be innovative and move everyone forward."
A lot of her success comes from being a good listener, said Chan, whether the person bending her ear is seeking advice or affirmation. Also, she relies on research and other data, such as trends in grades and subjects, to plot the course of the district's future. She also talks to other people to get input on how the four schools can do better.
"I think we work hard at Kingman Academy of Learning," said Chan. "And for the association to notice that is a great thing. This award was important because it came from my peers. I'm proud of the people who work with me and this honor is a reflection of my team and what they've done."
Click for home delivery with comics, grocery deals, inserts, TV listings, coupons and more