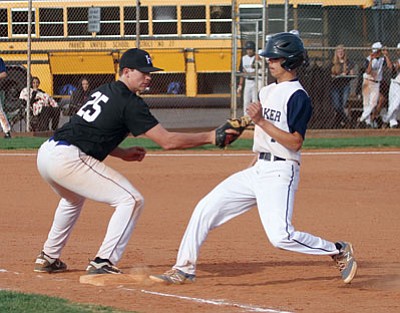 Originally Published: April 6, 2014 6 a.m.
KINGMAN - Senior ace Tarik Skubal pitched a three-hit, complete-game shutout for the Kingman Academy baseball team Friday for a 5-0 win over Bagdad in a non-section game. Skubal struck out 11 Sultans and only walked two.
"He threw really well," said KAHS coach Bill McCord. "He was in control the whole time. He was never really in any trouble."
Kingman Academy (9-3, 2-2 S2) had been plagued with numerous errors in its past several games, but the Tigers' defense limited those mistakes to two. One of those occurred in the seventh, but right fielder Bailey Rust stayed with the play and threw a Bagdad runner out at the plate.
"We played better with fewer mistakes," McCord said. "It was better overall."
The Tigers got their first run of the game from leadoff hitter Westin McCord. McCord reached first on an infield single to third and Bagdad began throwing the ball around. After the ball got past the Sultans' first baseman, McCord took second. The ball was thrown to second, but another Bagdad (5-3) throwing error allowed McCord to not only take third but score as well.
Kingman Academy scored two in the second as Quinn Garcia had an RBI single. In the fourth, the Tigers scored their last two runs with Garcia and Lance Martin crossing the plate.
But the game belonged to Skubal. Twice he retired the Sultans in order, and he and the Tigers have a big game ahead of them. Kingman Academy hosts Northwest Christian (9-2, 3-0) at 3:45 p.m. Friday in a pivotal D-III, Section 2 game. It's a four-team race for the section championship with Yuma Catholic (10-0, 5-0) and River Valley (7-2, 3-1) involved, and the Tigers face them all in three of their next five games. Skubal is expected to get the start against Northwest and the Tigers have five days to prepare.
"We've got some big games coming up where we can win our section if we beat them head to head," McCord said. "We're going to focus on our hitting and getting better contact with the ball. We've had some strikeouts and want to at least get the ball in play."