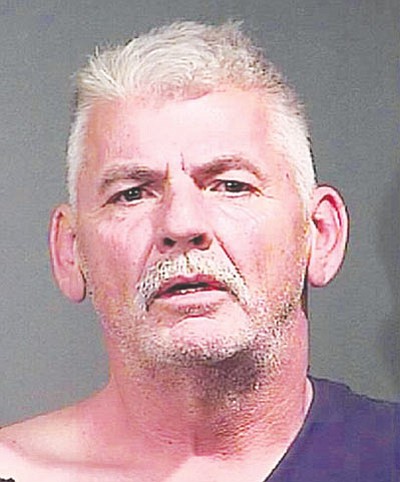 Originally Published: April 9, 2014 6:02 a.m.
KINGMAN - If he were immortal, convicted sexual predator Edmund Herald Adams, 54, would be 680 years old before he walks the Earth again as a free man.
That's 626 years and six months from now, less than an hour shy of 228,825 days.
After that "release," thanks to Superior Court Judge Rick Williams, Adams would have to serve a lengthy term of community supervision - one day for every seven he spends in prison - which equates to nearly 13 more years.
For good measure, he would also have to register as a sex offender.
Adams is not immortal, obviously, and the longtime predator will likely die before he finishes the first of 22 consecutive prison terms he received Monday.
"I can't recall a longer sentence," said Chief Deputy Mohave County Attorney Jace Zack.
That's a sentiment shared by Sheriff Tom Sheahan, who has lived in the county for 42 years. The sheriff is pleased with the outcome.
"This case, the amount of time he got, this sends a message to pedophiles that Mohave County takes these crimes seriously. He will never see the light of day again."
Williams, apparently, was not in the mood to temper justice with mercy. He stacked Adams' sentences, one on top of the other.
On three counts of sexual conduct with a minor, Williams sentenced Adams to a term of 37 years for each conviction.
He received 35 years for child molestation, 35 years each on four convictions of sexual exploitation of a minor (with known local victims), 28 years each on two convictions of sexual conduct with a minor (with an unidentified local victim), 28 years each on 10 convictions of sexual exploitation of a minor for possessing child pornography from the Internet and two years for his conviction on one count of surreptitious videotaping.
Finally, Williams sentenced Adams to 2 years and six months on a misconduct involving weapons conviction.
Williams was able to hand down the unusually harsh sentence for a number of reasons.
Prosecutor Greg McPhillips noted 20 of Adams' 22 convictions are classified as dangerous crimes against children, which require an enhanced sentence. Nine counts involved two victims in Golden Valley and two more involved the defendant filming himself sexually abusing an unidentified child, also in Golden Valley.
Adams was convicted of child sexual abuse in California in the early 1990s, a so-called "predicate felony" that allowed Williams to further enhance his sentence.
Williams, said McPhillips, also took into account the emotional harm Adams' abuse caused the victims and their families.
The damage he wrought began at least four years ago, in 2010, when Adams first began victimizing at least three young boys in Golden Valley, crimes that would go unchecked for the next two years.
The Mohave County Sheriff's Office didn't learn of Adams or his proclivities until 2012, when a woman reported he inappropriately touched her son.
Adams was arrested a mere three days after the investigation began, but detectives continued to search for more victims.
Those victims and physical evidence - including homemade videos and images of child pornography - helped build an ironclad case against Adams.
Veteran Mohave County Sheriff's Detective Jason Elsbury, who received specific training on how to examine computers in these types of cases, discovered a good percentage of the evidence.
"I found hundreds of images of child porn," he said. "And I found (evidence) of him searching for child porn and evidence that he manufactured child porn."
Elsbury said similar investigations typically require about 40 hours of work, but "this case involved a lot more than that."
Sheahan said the images were "disgusting" and reiterated his opinion of the Adams' sentence.
"He deserves every day he got," said the sheriff. "This was a great job by the prosecutor and the judge for the sentence handed down."
If Williams had any leniency in mind when he sentenced Adams to more than six centuries in the penitentiary, it came early in the hearing when he gave the man credit for the 566 days he has spent in the Mohave County jail since his arrest.
The credit is only good for the first 37-year term and does not apply to any subsequent terms.
The weapons conviction regarded more than 20 firearms Adams attempted to hide from law enforcement officers.
He is a prohibited possessor.
Also on his record is a 2011 Mohave County arrest for failure to register as a sex offender regarding the California conviction.