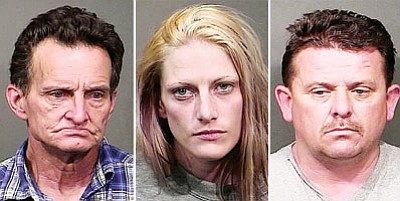 Originally Published: April 9, 2014 5:56 a.m.
KINGMAN - Law enforcement officers from multiple agencies arrested three Kingman residents allegedly involved in the heroin trade after searching a home Friday afternoon.
Michael Ray Pearson Jr., 46, Dale Brett McCord, 56, and 28-year-old Lisa Juanell Jenkins were arrested on a host of drug charges.
An investigation conducted by detectives with the multi-agency Mohave Gang and Immigration Intelligence Team Enforcement Mission obtained a search warrant.
Officers from the Mohave Area General Narcotics Enforcement Team, the Kingman Police Department and the Bullhead City SWAT team assisted GIITEM with the warrant, which was served at a home in the 3400 block of North Diamond Street at about 12:45 p.m.
Traffic on the road was blocked for about one hour and restricted to residents for three more while the search was conducted, according to Kingman Police spokeswoman Jennifer Sochocki.
Sochocki said the three suspects were taken into custody as soon as the warrant was served and later admitted their respective involvement.
A teenager was in the home and two younger juveniles were in school. All three were released to a relative, according to Sochocki.
Two other adults in the home were found "not to be involved," said Sochocki.
The search yielded 6.5 grams of heroin, a small amount of marijuana, drug paraphernalia and about $375 in cash, said Sochocki.
McCord faces felony charges of possession of narcotics for sale, possession of narcotics, possession of drug paraphernalia and child abuse.
Pearson and Jenkins were arrested on charges of possession of narcotics and possession of drug paraphernalia.
Jenkins was additionally arrested on a Lake Havasu City-issued misdemeanor contempt of court warrant.
More like this story