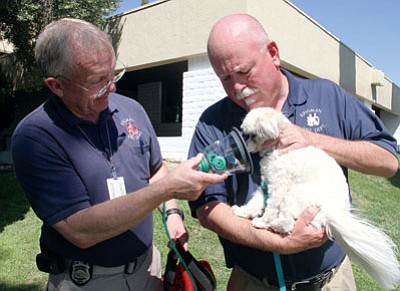 Originally Published: April 14, 2014 6 a.m.
KINGMAN - It's been 18 long years since the Kingman Fire Department has carried the proper tools to save a pet's life after rescuing it from a fire.
But thanks to members of the Order of the Eastern Star Kingman Chapter 17, four emergency vehicles are now equipped to provide immediate care to cats, dogs and other animals suffering from burns and smoke inhalation. The 88-member nonprofit donated to The Fetch Foundation to receive four FIDO Bags that it recently presented to KFD.
Each bright red bag, embroidered with the organization's name, contains a cone-shaped oxygen masks and breathing apparatus, specialized burn sheets, bandages, gloves, rinsing saline, a collapsible water bowl, toys and protective restraints. The department shared one bag each with the Golden Valley and Northern Arizona Consolidated fire districts and kept two for itself.
"We'll absolutely use these bags," said Bill Johnston, coordinator for KFD Emergency Medical Services. "We have a lot of vehicle accidents and fires, and many of them involve animals. People are very concerned about their pets. Our guys know that pets need care and they are compassionate, so they'll use this equipment to give aid to the animals."
According to The Fetch Foundation, which is headquartered in Scottsdale, fires affect about 500,000 pets in the U.S. each year. And more than 40,000 family pets die from smoke inhalation alone. The organization came up with FIDO Bags because most fire departments are only equipped with human emergency supplies and the oxygen masks available are too flat and small to fit a pet's face.
"We got these bags for Kingman because we wanted something done for our beloved pets," said Carol Greene, a member of the Eastern Star. "We're all very close to our pets and they are like family to us. We want them rescued, just like we want our children rescued, so we're providing these tools to the fire department so they are equipped to do that."
Click for home delivery with comics, grocery deals, inserts, TV listings, coupons and more