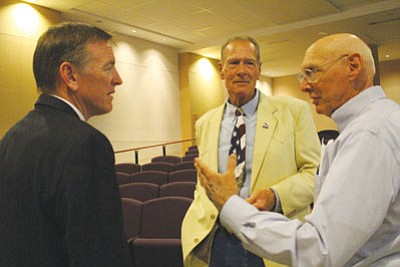 Originally Published: April 15, 2014 6:02 a.m.
KINGMAN - In the 1940s, at a nearby nuclear test site in Nevada, the policy was to wait for westward winds to pass before conducting underground and atmospheric tests.
That way, heavily populated areas in California and Nevada wouldn't have to suffer what the federal government knew to be the malignant impacts of nuclear fallout and radiation.
What was common knowledge among those with ready access to nuclear weapons wasn't for those living east of the test site in Kingman, and elsewhere, watching mushroom clouds rise up the mesa into their living room windows.
It wasn't the federal government's priority to tell them, either, sending Navajo workers to mine large amounts of uranium on Navajo land in the midst of a nuclear arms race.
"We as Native Americans have been subjected to many forms of injustice," said Hualapai Tribal Chairwoman Sherry Counts during a field hearing with U.S. Rep. Paul Gosar, R-Ariz., and his staff Monday in Kingman.
"Unfortunately, these acts are not behind us."
Only she's not talking about uranium miners: Only residents of Coconino, Yavapai, Gila, Navajo and Apache counties, who lived "downwind" from the Nevada test site in the 1950s and 1960s, currently receive compensation under the Radiation Exposure Compensation Act, or RECA.
That's why Gosar had the meeting with more than 150 people - to discuss proposed reimbursements to Mohave County residents who suffer from, or lost family members to, radiation-induced disease.
The hearing focused on a bill Gosar proposed last year called the Mohave County Radiation Compensation Act, which would include Mohave County residents among those receiving compensation for radiation exposure under RECA.
The radiation exposure stems from more than 1,000 nuclear tests that took place in Nevada since 1945.
Twelve designated witnesses held a Q&A with Gosar and his staff, relaying stories of how radiation exposure impacted their lives and their health, as well as those of their loved ones, many of whom became ill or died.
Among the witnesses were Counts; Yavapai County attorney Laura Taylor, who specializes in RECA filings; Mohave County Supervisors Buster Johnson and Gary Watson; and several cancer victims and survivors.
Passed in 1990 and amended again in 2000, RECA excludes Mohave County residents, despite being closest to the nuclear test site.
The 1 million acre Hualapai reservation in north Mohave County alone is 15 miles from Nevada, Counts said, where to this day rabbits are not hunted for fear of contamination, and large numbers have suffered and died from the effects of radiation exposure.
"It's never too late to right a wrong," said Counts.
Gosar, who represents Arizona's Fourth District, said he is working with Nevada residents in Clark County who were also impacted by radiation.
"That way we have more beef behind us," he said. "We want to make sure the people keep a unified front."
Pastor Danny Briles said during the hearing his father had 16 siblings, only one of whom contracted cancer.
But since moving to Coconino County in the '50s and again to Kingman in the '60s, Briles said, both he and his brother contracted prostate cancer, and his other brother lung cancer.
RECA does not include prostate cancer in its reimbursements, which is another proposed amendment Gosar is considering.
"It is appalling the disproportionate portion," said Briles. "I also believe prostate cancer should be included."
Witnesses also relayed stories during the hearing about receiving government warnings around the time of the nuclear tests to not eat snow or drink water from brooks.