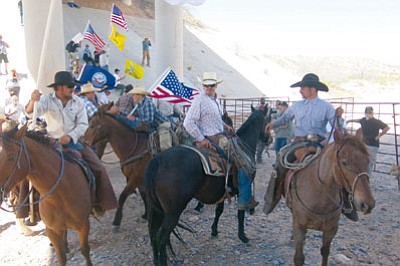 Originally Published: April 15, 2014 6 a.m.
KINGMAN - About 10 Mohave County Republican Party committeemen made the trip to Bunkerville, Nev., Saturday to show support for rancher Cliven Bundy.
Bundy, whose family has ranched in the area adjacent to the Utah and Arizona state lines for well over a century, is locked into a land use dispute with the Bureau of Land Management. Bundy hasn't paid grazing fees for over 20 years and has lost in court every time the BLM has pursued the case to that point.
But there was plenty of sympathy for Bundy last week when the BLM started rounding up his cattle and videos of armed federal employees pointing weapons at civilians were shown on national television. Supporters flocked to Bunkerville to stand by Bundy.
The effort paid off during a Saturday morning confrontation. The BLM blinked, withdrew from the area, and Bundy's cattle were released.
Bill Earnshaw was one of the Kingman residents who made the trip. He reported that Bundy said "It's a good day to be an American" after the cattle were released.
Before that, however, Earnshaw said cowboys approached the BLM and were warned they would be shot if they continued.