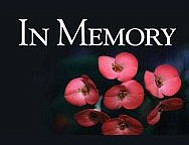 Originally Published: April 16, 2014 6 a.m.
Kassik, Carol Lee Hull, 89, teacher, passed through the narrow gates of Heaven to join her family on April 13, 2014.
Born July 5, 1924, in Waynoka, Okla., to Jesse Carroll and Ellen Olive (Barber) Hull. As a member of the greatest generation, she served in WWII as a corporal in the Women's Army Corps. She received her bachelors in Elementary Education from Northwestern Oklahoma State University, and Masters in special education from Northern Arizona University. A lifelong educator, she taught all grades but found her passion in special education, retiring from Kingman public schools. She volunteered as a foster grandparent in Wichita public schools and as a reading tutor for KANSEL.
She is preceded in death by her parents; sisters, Della Mae Schuette and Chrystal Burt; and brothers, Jesse (Jack) Hull, Darrell Hull and Winston Charles Hull. She is survived by her daughter, Carolyn Sue (Michael) Bunch of Wichita; grandchildren, Mike (Malinda) Brozek of Topeka, Kan., Tina Payne of Valley Center, Kan., and Taylor (Velora) Bunch of Wichita, Kan.; great-grandchildren, Kylie Payne, Nate Brozek, Ben Brozek, Jerod Payne and Lauren Lucas; siblings, Dorothy (JB) Shepherd, Ruth Downs, Janie Kanaga, Rev. Donald (Cindy) Hull, all of Waynoka, Okla., and Eleanor Blain of Sugar Land, Texas; and a host of loving extended family members.
In lieu of flowers, the family is asking for memorials to Waynoka Methodist Church building fund and Kansas School for Effective Learning (Wichita) scholarship fund.
The memorial service is at noon Friday, April 18, at Waynoka, Okla., Methodist Church.