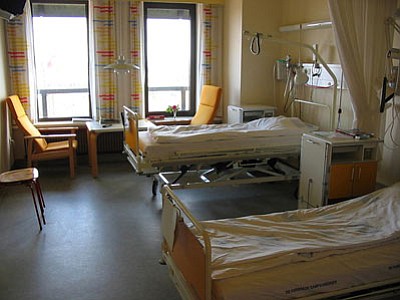 Originally Published: April 18, 2014 6 a.m.
KINGMAN - Some may not realize it, but buying individual health insurance on the open market is for the most part not an option until November.
Not only have people been locked out of the Affordable Care Act exchanges since the March 31 deadline, they can no longer walk into or call an insurance broker's office and get a policy - unless they have a change in marital status, birth of a child, loss of a job or some other major qualifying event.
That fact has changed the way health insurance is being marketed these days, said Jeff Stelnik, senior vice president of strategy, sales and marketing at Blue Cross Blue Shield of Arizona.
The company continues to offer products on and off the exchange to individuals who experience a qualifying event.
And the insurer is eagerly waiting for the next open enrollment period, set for Nov. 15 to Feb. 15, when it will be able to sell policies to anyone.
At least 7.5 million people signed up for private health insurance on the online exchanges that were open from October to March, according to the Obama administration.
"Because we've remained flexible and adaptable throughout the health care reform process, we don't expect for the shortened open enrollment period for individuals, set by the federal government, will have a significant impact on our business," said Stelnik.
"In advance of the open enrollment period, we've had initiatives in place to communicate with and educate Arizonians to make them aware of the shortened time frame and the importance of purchasing coverage.
"Through partnerships with community organizations, online tools and our customer service team, we've worked diligently to adapt to this new process."
Health insurers off the exchanges may choose to offer coverage outside of open enrollment, but it varies by the issuers, said Fabien Levy, press secretary for the U.S. Dept. of Health and Human Services in Washington, D.C.
If they do, they must comply with new federal regulations, such as not discriminating based on a pre-existing condition or current health status.
The insurer must also make sure the plan is available for anyone who may want to purchase it, added Levy.