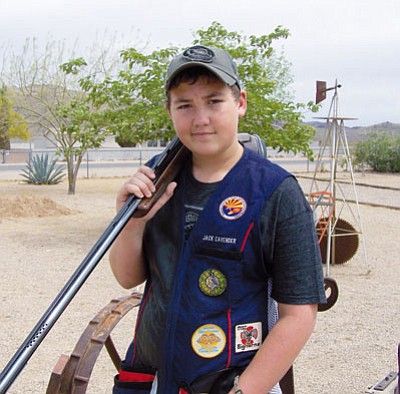 Originally Published: April 23, 2014 6 a.m.
KINGMAN - It seems that Kingman is producing more and more top trap shooters, and the hottest right now may just be Jack Cavender, 13, a 7th-grader at Kingman Academy Middle School.
With the full support of his father and mother, Nick and Dawn, the young gun started shooting trap when he was just 9 years old.
Dawn said that she saw an article in the Kingman Daily Miner about a trap shooting group that was affiliated with the Scholastic Clay Target Program (SCTP) so she and Jack went out to investigate.
"Unfortunately, we found out that Jack was actually too young to get into the program, but he was excited," Dawn said.
A year later they went back and Jack joined the Mohave Top Guns, a group of young shooters who are from the Kingman area.
Jack enjoyed shooting trap and he attended all of the shoots that he could. He practiced on Wednesday, Saturday and Sundays, while still maintaining the academic standards that are required by those in the SCTP.
He quickly became proficient with a 12-gauge shotgun and participated in not only in the SCTP, but also in the Arizona Amateur Trap Shooting Association competition.
Cavender's skills were obvious - several years ago he won the state SCTP title in the rookie class. Cavender was just 11 when he shot an amazing 92 x 100 targets at the event - a record that stands to this day for a rookie class shooter!
Last year Cavender moved up to the intermediate class in the SCTP.
Once again he was a winner, shooting a score of 182 X 200.
Cavender also changed shooting squads. He now shoots with the Mohave Bighorns, who are based out of the Mohave Sportsman Club.
This spring, Jack participated in the 2014 State Championships for the Arizona Amateur Trapshooting Association. The matches were held at the Ben Avery shooting range in Phoenix. This was a five-day shoot held at spring break.
Cavender, who shoots a Browning BT 99 in singles and handicap completion, uses a Mossberg Silver Reserve Over/Under 12-gauge when shooting doubles.
On the first day, Cavender shot singles in the sub junior class in the D Division, hitting 97 of 100 to win that event.
On Day 2, Jack entered three events, winning the sub junior class doubles shoot by scoring 79 of 100.
Then the young man shot 100 rounds of singles from the 16-yard-line, winning with a 94 X 100.
In his final event, handicap singles, Jack moved to the 20-yard-line and won with a score of 91 X 100.
On the third day, Jack scored 77 X 100 to win the 100 bird doubles completion in the sub junior class.
Then, in a handicap trap event at the 20-yard-line, Jack won by shooting 92 X 100.
On Saturday in the Arizona State Singles Championships in the sub junior division, Cavender easily won with a score of 194 X 200.
Cavender was shooting in a 100-target handicap match at 20 yards Sunday. The sub junior easily won with a score of 96 X 100.
Jack also won the High Overall for a sub junior, breaking an amazing 911 of the 1,000 targets. Cavender won a silver belt buckle for that win.
In the sub junior All Around for a three-day shoot (Friday-Sunday) Cavender's 366 X 400 won in his class. In addition to winning trophies and belt buckles, Jack also won a little cash!
Cavender's next shooting match will be in the singles championships of the Arizona SCTP in what is known as the Commissioner's Cup. This event will be held in Tucson.
In July, Jack will head to Sparta, Ill.,to compete against the nation's top juniors trap shooters.
Jack figures to be up for that competition and he may just bring home some national honors.
As you might imagine, shooting this much isn't cheap when you consider that shotguns shells sell for around $8 a box of 25.
While it does put a strain on the Cavender's budget, they are determined to support Jack in his endeavor to be one of the nation's top junior trap shooters.
"That's why I got a part time job!" Dawn said, laughing.
Dawn and Jack lauded his coaches at the Mohave Sportsman Club, including Steve Bell, Greg Holden, Billy Privitts and Dave Coffman, saying they are the main reason he has progressed so rapidly.
"Those guys are awesome,' Dawn said. "They really help out the kids."