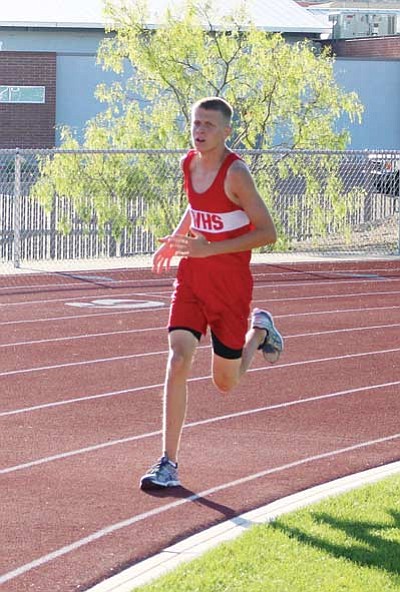 Originally Published: April 23, 2014 6 a.m.
KINGMAN - The Lee Williams High girls track team finished fourth and the boys squad was fifth at the seven-team Mohave Electric Invitational last Saturday in Bullhead City. Host Mohave swept the meet with the boys winning with 240 points and the girls scored 198. The Lee Williams boys team had 38.5 points and the Lady Vols ended with 69.
Though Lee Williams was shut out from a first-place finish in any event, the Volunteers came in at the top of the leader board in several of them.
On the boys side, Brendon Allred and McGregor Octave each scored a second-place finish. Allred was runner-up in the 3,200 meters with a time of 10 minutes, 47.10 seconds. Octave's jumps totaling 39 feet, 10.50 inches in the triple jump landed him second.
Lee Williams (Tristan Edwards, Landon Kramer, Kody Halliburton and Jack Kirby) was third in the 4x100 at 50.22 seconds.
Octave grabbed a fourth-place finish in the high jump (5-02), and Allred was fifth in the 1,600 (4:56.97).
Megan Barnes finished second in the 400 (1:05.94) and 800 (2:42.10) for the Lady Vols. Marli Lauck also posted a second-place finish in the triple jump (30-05.50).
Third-place scores were posted by Noelle Araujo in the 100 hurdles (57.55), Brianna Colbaugh in the shot put (28-01), and the 4x400 relay team (Araujo, Lauck, Barnes and Rayann Robinson) in 4:35.59.
Caroline Toler was fourth in the 3,200 (15:02.90) and the 4x100 relay team (Colbaugh, Lauck, Finch and Robinson) finished in fourth place (57.61).
Lee Williams has only two qualifying events remaining in the season to make the state championship meet May 9-10 in Phoenix. Currently, Giancarlo Narvate (high jump) and Octave (triple jump) are in the top 24 that qualify for the boys. Narvarte is ranked No. 2 and Octave is No. 16.
On the girls side, Colbaugh is No. 22 in the shot put, and Anastasia Lynch is No. 8 in the discus. The 4x400 relay team is four spots out, and Lauck is one spot and just one-half of an inch from making the triple jump.
The Vols will be at the Havasu Last Chance Qualifier today in Lake Havasu, and host the Colorado River Region Qualifier at 11 a.m. Friday.