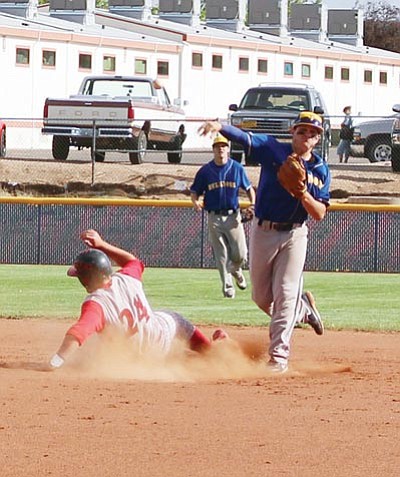 Originally Published: April 24, 2014 6 a.m.
KINGMAN - It's not how Senior Appreciation is supposed to play out. Mingus' Marshall Shill threw a complete game no-hitter at the Kingman High baseball team in the Bulldogs' final home game of the season Tuesday in a Division II, Section 5 game at KHS. The Marauders, ranked No. 4 in D-II, prevailed 7-0.
"He kept the ball low, and he was effectively wild in the beginning," said KHS coach Chad Baitinger. "When you throw it low in weather like this and induce groundballs with their solid defense, you're going to have a good game."
Shill only allowed two Kingman (5-11, 0-4 S5) base runners. Joey Scott worked a walk in the first, and Jeremiah Russell reached on a base on balls in the third. Russell was picked off and Shill retired the final 14 Bulldogs in order.
With wind gusts reaching 47 miles per hour, the idea for success was to play small ball. Kingman couldn't do it, and Mingus (11-3, 2-1 S5) was nearly perfect in its execution.
"I wanted to do it, but we couldn't get any base runners," Baitinger said. "That's a good team over there."
Mingus scored a run in the opening inning on a single, stolen base and another single. After that, it looked like Kingman starter Tyler Logas would keep the Bulldogs close. He kept the Marauders off the scoreboard in the second and third innings.
The wheels fell off for Kingman in the fourth when Mingus scored six runs. The Marauders had four consecutive singles to begin the inning, including two bunt singles when Mingus was willing to sacrifice outs. The Marauders stole two bases during the rally, and Kingman committed two errors as well.
Logas took the loss for Kingman. He went six innings, gave up all seven runs - four earned - on eight hits, one walk and he hit three batters. Logas struck out four.
Taylor Savage pitched the final inning. He gave up one hit, walked one and didn't allow a run.
Two games remain on the schedule for the Bulldogs. Kingman travels to play No. 7-ranked Flagstaff (12-3, 2-2 S5) in a section game at 3:30 p.m. Friday. Kingman's postseason hopes have disappeared, but the Bulldogs have adopted the spoiler's role.
"We would really like to beat Flag," Baitinger said. "We want to try to make them travel during the playoffs."