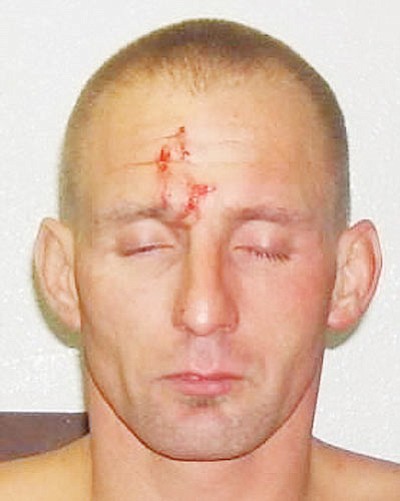 Originally Published: April 24, 2014 6 a.m.
KINGMAN - A man fleeing from an Arizona Department of Public Safety officer killed a longtime Kingman resident when he crashed into her car after running a stop sign in the Butler area late Tuesday afternoon.
Linda Chevalier, 66, died at Kingman Regional Medical Center. Firefighters and paramedics from the Northern Arizona Consolidated Fire District responded to the 5 p.m. crash at Packard Avenue and Bond Street and had to use hydraulic power tools to gain access to Chevalier.
The alleged driver, Robert James Dodd, 41, was taken by DPS helicopter to St. Joseph's Hospital and Medical Center in Phoenix, where he is being treated and is in custody.
Dodd will face charges of first-degree murder, according to DPS spokesman Bart Graves.
Graves shared limited information, saying the case remains under investigation. Actually, there will be two parallel investigations, he said - one regarding the criminal case against Dodd and a second that will focus on the pursuit to determine if it complied with DPS policy.
The officer is a member of the multi-agency Gang and Immigration Intelligence Enforcement Mission task force, according Graves.
"He was in pursuit of a convicted felon he was trying to arrest," said Graves. "This guy [Dodd] has a history of running."
According to court records, Dodd has a criminal history in Mohave County dating to 1996. He has faced charges that include escape, resisting arrest, aggravated assault and possession of dangerous drugs.
A person close to the case said Dodd was wanted on several warrants related to kidnapping, resisting arrest, unlawful flight and endangerment. The source, who is not authorized to speak to the media, asked to not be identified.
Graves said Dodd was fleeing the officer on Packard Avenue at about 45 mph when he blew the stop sign at Bond Street and struck the side of Chevalier's vehicle. She was driving south.
Both vehicles were heavily damaged and an unidentified female passenger in Dodd's vehicle was injured. She is expected to survive.
"He gave no thought to other traffic," said Graves, "and he caused a fatal wreck."
Graves declined to discuss whether the officer followed the department's pursuit policy.
"There's going to be an investigation into the pursuit," said Graves. "That is standard procedure."
The criminal investigation must be completed before that process begins, he said. At this point, there is nothing to suggest the officer acted outside of department regulations.
Chevalier, according to a friend, had been active in Kingman for years, particularly at St. John's Methodist Church.
She was reportedly a hospice caregiver and had just left a patient when the incident occurred.
Graves said the DPS would provide more information on the pursuit and fatal crash today.