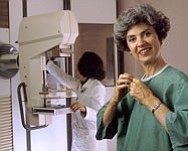 Originally Published: April 27, 2014 6 a.m.
KINGMAN - Governor Jan Brewer signed a bill into law last week that requires health care providers during breast cancer screenings to tell women if they have dense breast tissue.
The bill, SB 1225, was sponsored by Sen. Nancy Barto, R-Phoenix, who said the bill will allow women to make the most informed decision possible when being screened for breast cancer.
Barto said the bill will "likely save many lives," and would allow more women to be informed of dense breast tissue by their doctors, and give more women the option to seek additional tests, such as an ultrasound or MRI, to screen for breast cancer.
Sen. Kelli Ward of Lake Havasu City, vice chair of the Senate Health and Rules Committee, moved the bill for hearing with the recommendation it be passed, Senate records show.
The bill also included an amendment changing the percentage of women estimated to have dense breast tissue from 40 to 50 percent, which Senate Republicans cite the American College of Radiology as saying can increase the risk of breast cancer by mimicking cancerous tumors on mammograms, which also look white and makes it difficult for doctors to most accurately identify cancer.
Ward moved that the bill amendments be adopted, which passed unanimously with seven votes in committee, Senate records show.
Barto said Nancy Cappello, founder of the nonprofit Are You Dense Advocacy, Inc., was the genesis of the new Arizona law.
Cappello, a breast cancer survivor, has worked with other advocates to enact breast density legislation in 14 states and to introduce legislation in 10 others, Republicans say.
Click for home delivery with comics, grocery deals, inserts, TV listings, coupons and more