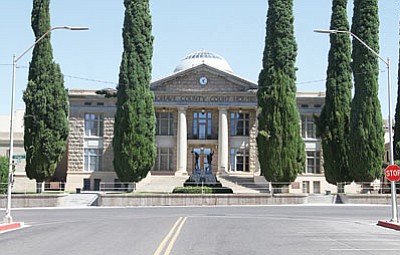 Originally Published: April 29, 2014 6:02 a.m.
KINGMAN - The city of Kingman management is open to discussing taking over the historic Mohave County Courthouse now that the Board of Supervisors has proposed a new downtown building to house county operations.
No talks have taken place yet, added City Manager John Dougherty, either between the city and the countY or among Kingman City Council members. The city would have to wait and see what the Board of Supervisors decide.
"I appreciate the supervisors thinking of us, and thinking we would perhaps have a use for it," said Dougherty. "If they do decide as a group they are interested in seeing if the city is interested ... we could certainly sit down with the county and discuss it."
Last week, state court officials presented the Board of Supervisors with plans for a new, three-story courthouse across the street from the Mohave County Sheriff's Office, where a collection of county records warehouses are located.
The county estimates the 88,00-square-foot building would cost $20 million and take two to three years to build, largely from funds acquired by a quarter-cent sales tax set to expire in 2019.
Supervisors were pressed to extend or make permanent the tax in order to afford the building.
Joshua Noble, Kingman Tourism Director, said the courthouse is one of the more prominent features of the community.
"From a community visitor survey we conducted, we found about 52 percent of our visitors are interested in visiting historic sites, and I know the courthouse is in the top five most photographed features in downtown Kingman," Noble said. "It is an integral part of the downtown Kingman area, and I'd like to see it do something, because it would be a shame to have it sit empty."
Dougherty said if discussions open up between the city and the county, the city would have their grant writer see what federal or state money is available to remodel the building.
"Right now, I just love the building for its historic significance, and it's a really neat building," said Dougherty. "As far as what we would do with it, we would have to sit down or possibly establish a committee to find out what uses we have for it."
Dougherty said city operations are fairly spread out, and in the event the city acquired the courthouse, the city could look at cost-matching, and consolidating or expanding operations at the historic location, such as for library services.
"It would have to be remodeled if we took it over, and I doubt that would be a big deal, but being (Americans with Disabilities Act) compliant would be the big sticking point," Dougherty said. "We're not exactly floating in money, so if we could get some help to remodel it there wouldn't be much to taking it over, unless someone came up with an idea for consolidating services."
Ruthie Burford of the Daughters of the Mohave County Pioneers, an organization of families and individuals who have been in the county for 100 years, said their committee members have fought for some time to preserve area buildings with historical value.
"There's been several buildings in town that our committees have been trying to save, some of the older buildings," said Burford. "The people on those committees feel very strongly that things should not be torn down."
Burford said the Daughters, who hold monthly meetings, have not yet openly discussed the county's recent proposals to build a new courthouse.
"I think it should be left as a building, but whether they use it as a courthouse or not I have different views on that," said Burford. "But as a historic building, I think it should be left, but what it should be used for I don't have a clue.
"I think we've been told wrong things in the past about how much it will cost and entail, and I think it could be saved."
County Supervisor Buster Johnson said a new Law and Justice Center became a priority once the sheriff's office was condemned. The county tried to pursue plans to for a comprehensive court system on donated acreage in Golden Valley, but those plans were dismissed by the courts at the time, who said courts in the county seat need to remain there, according to Johnson.
"We said, 'OK, let's fix it up,'" Johnson said about the current courthouse. "Everything fell apart."
That goes as far as plans to fix up the current courthouse, as much as plans to build a new one, according to Johnson.
"They've done maintenance to keep it up, but there has been a history in Mohave County where we don't take care of our buildings," Johnson said. "The maintenance is gone, and I think that's the biggest thing."
The building is already on the registry for historic buildings, Johnson said, and is a building that has housed courtrooms for nearly 100 years.
"We have to have the building anyway ... but we need to have a plan. We don't have a plan," Johnson said. "You just can't tear that building down."