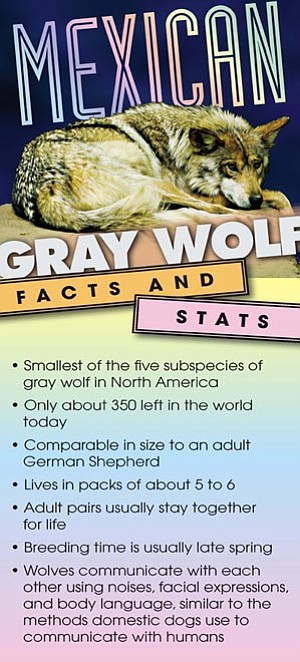 Originally Published: April 30, 2014 6 a.m.
KINGMAN - The Arizona Game and Fish Commission voted unanimously last week to support what could be an agreement on Mexican gray wolf management in Arizona and New Mexico - if it's adopted by federal authorities.
The proposal, called the non-essential population rule, has an unprecedented level of stakeholder support and is being submitted to the U.S. Fish and Wildlife Service for consideration in its Environmental Impact Statement.
"This is a big deal," said Jim Paxon, special assistant to the director of the Arizona Game and Fish Commission. "This is a historic coming together of diversified interests to find solutions instead of fighting over minute details.
"What we're trying to do is to propose an alternative that we believe will work with our situation, because we don't think anybody knows Arizona and its wildlife and requirements like Arizona Game and Fish does. I would tell you there are Mexican wolves in Arizona because Arizona Game and Fish has been involved on a daily basis."
But Patrick Bray, executive vice president of the Arizona Cattle Ranchers Association, said he isn't holding his breath for federal approval.
"We've been intimately involved in the program since about 2006, and the program really started to flounder because there is a lack of leadership at U.S. Fish and Wildlife Service, and their inability for them to make decisions," said Bray. "There is an uncertainty for ranchers on the land or those communities impacted by the wolf."
Paxon said the local plan has to balance other elements of the ecosystem, including a healthy population of deer and elk, as well as the socio-economic element of those who live, work and visit lands occupied by the wolves.
That's why the nearly 80 meetings held among 28 cooperating agencies and stakeholders - from counties, to cattle ranchers associations, to hunters - show historic dedication to preserving a wolf species first identified as endangered in 1967, as well as area economies, he said.
A section of the Endangered Species Act permits localities to derive their own plans to accommodate all stakeholders and federal requirements in preserving a species, Paxon said, which is what Arizona Game and Fish is currently working to do.
Paxon also said the U.S. Fish and Wildlife Service told them the environmental impact statement should take about two years to complete.
"This rule will guide us for the next 10-20 years about what will be done about Mexican wolves," said Paxon.
Bray said he thought it was critical for the association to stand by their partners, including Arizona Game and Fish, to send a message to the federal service that their style of management is unacceptable.
Bray said examples include repeated documented livestock killings by wolves, which Bray said the service has failed to remove those wolves until political pressure is involved.
"Nothing they have on paper is scientifically sound or based, and we've seen it all in the rules that all of this is a political agenda, and the sad fact is the federal government is playing into the hands of the environmentalists," said Bray. "As long as the wolf is alive, it's a money train."
Bray said the federal service does not compensate Arizona cattle ranchers for veterinarian bills as a result of wolf attacks on livestock, nor does it account for decreased production from stunted, livestock growth rates when cattle live knowingly amongst the predators.
Paxon said a scientific analysis of the Mexican wolf's diet shows it consists of 75 percent elk, with the remaining 25 percent consisting of deer, turkey, and occasional commercial livestock.
Bray said the state's proposal does not include wolves in Mohave County, although all state agencies would be able to respond to invading species from the north or south, if needed.