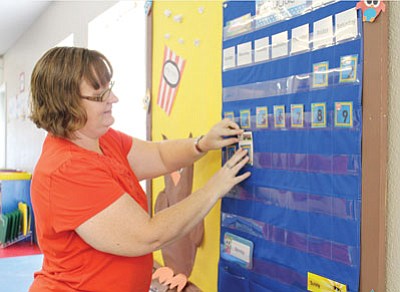 Originally Published: August 3, 2014 6 a.m.
KINGMAN - Arnoldo Lopez has a simple question when it comes to comparing Emmanuel Christian Academy's educational benefits to the public schools in Arizona.
"The state is 48th in per pupil spending in the nation," said Lopez. "Why would anyone want to compare themselves to the state when it ranks so low? ECA offers so much more than public schools, and it scored in the 98th percentile among like schools in the national tests it uses. That's significant. It's a small school but it's successful."
Lopez, who lives in Rio Rico, has been the school's volunteer grant writer for about two years and crunches the numbers for the religious-based campus as he seeks to obtain funding for it. Lopez said ECA uses standardized testing from the Association of Christian Schools International instead of AIMS, or Arizona's Instrument to Measure Standards test.
Lopez said the ACSI student assessment program utilizes TerraNova 3 testing, one of the most widely used achievement tests in the nation that measures mastery in core subjects. It provides detailed diagnostic information, norm- and criterion-referenced scores and performance-level data.
The test is aligned to the U.S. Department of Education's National Assessment of Educational Progress, the largest nationally representative and continuing assessment of what U.S. students know and can do in various subject areas. ACSI partners with CTB/McGraw-Hill in providing its standardized assessment program.
While Lopez appreciates the school's academic standing nationally because it helps to capture grants, he's quick to point out that sending a child to a private religious school offers more than just high test scores. Lopez said he believes ECA does a good job of providing a solid educational basis while teaching children about their uniqueness, connecting them with God and helping them to be good citizens.
"There's nothing wrong with public education in Kingman," said Lopez. "But there are parents who want religious training incorporated into their child's education. They look at the standardized scores but they also believe the overall experience there is more important. The students have smaller classrooms, get more time with their teachers and they learn valuable religious concepts that are important in life."
According to Private School Review, a web site that provides free, detailed profiles of private day schools in the U.S. and their surrounding communities, there are 474 private schools serving 62,594 students in Arizona. A total of 58 percent of those schools are affiliated with religions. In Mohave County, there are eight private schools with 586 students.
Click for home delivery with comics, grocery deals, inserts, TV listings, coupons and more
More like this story