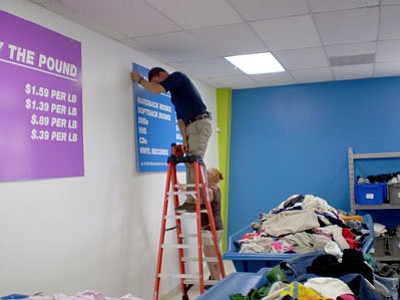 Originally Published: August 4, 2014 6 a.m.
KINGMAN - Rob the piggy bank and block out a few shopping hours. Goodwill Industries has opened its first retail store in Kingman at 2369 Airway Ave.
Friday's grand opening was three months in the making, said Andy Marano, vice president of donated goods and retail for Goodwill Northern Arizona in Flagstaff.
He oversaw the remodel and renovation of the 5,000-square-foot building that was formerly Atwoods Appliances.
The not-for-profit corporation invested $100,000 to $150,000 painting the building, putting in new lights and fixtures and adding a second bathroom to bring it up to city code for a higher occupancy load, Marano said.
Goodwill stores are operated autonomously, meaning they're independent of each other, he said. Kingman is part of Goodwill Northern Arizona.
"This is the stuff our donors and shoppers are concerned with. All of the profits and goods stay here," Marano said.
Goodwill has a donation center at 4265 Stockton Hill Road, but no thrift store in Kingman. The donation center will remain open.
"People have been asking about a store here for two or three years," store manager Kathy Phillips said. "We've had 12 to 15 people a day at least come in excited and anxious and wanting to know when we're opening."
The new Goodwill store accepts donations and makes it convenient by allowing donors to drive through and ring a bell for someone to unload goods. The store is open seven days a week from 9 a.m. to 6 p.m.
"It's the best deal in town," Marano said. "You can buy by the pound. I'd see people in Flagstaff come in and buy 150 pounds of clothes. People would go through the clothes and resell them."
The store will stock all of the usual stuff you'd expect to find at a thrift store, including used clothing, dishes, appliances, furniture and odds and ends.
Goodwill's mission is to create jobs for disabled and handicapped workers and Marano proudly mentioned the store hired eight people. It also serves as a training environment for teenagers and first-time jobbers.
Sandra Martinez said she was referred to Goodwill's training program through a local mental health organization.
"This program helped me a lot," Martinez said as she prepared items for the grand opening. "I always love my job here. I used to be shy. Now they can't shut me up."
Click for home delivery with comics, grocery deals, inserts, TV listings, coupons and more