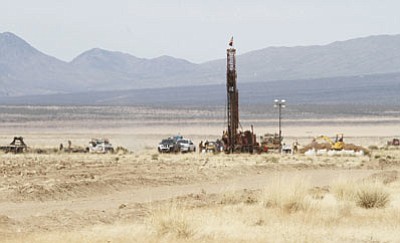 Originally Published: August 8, 2014 6:02 a.m.
KINGMAN - The city of Kingman wants a say in the land swap agreement Golden Valley developer-cum-farmer Jim Rhodes is negotiating with the Bureau of Land Management.
City Manager John Dougherty in a brief announcement at the conclusion of Tuesday's meeting said he is gathering information on the region's groundwater supply.
Rhodes started Kingman Farms after he was denied authority to build a 5,700-acre master-planned community in Golden Valley. He owns about 80,000 acres in Mohave County and has announced plans to farm about 40,000 acres - something that has raised serious regional concerns over the water supply from residents and local governments alike.
The City Council will likely take a formal position at some point in the near future.
In other action Tuesday, the City Council:
• Unanimously approved an amendment to the Zoning Ordinance that will allow businesses in the city's industrial zones to keep more than one cargo or other storage container per acre on their property. The containers also must be screened from a street view.
According to Development Services Director Gary Jeppson, a resident complained about a business reportedly in violation of the rule and the Neighborhood Enforcement Division of the Kingman Police Department took enforcement action.
As a result, a property owner in an industrial zone asked the City Council to amend the ordinance to allow more containers. They cannot be stacked.
Staff recommended and Council approved amending the density to one container per every 4,000 square feet. There are more than 43,500 square feet in an acre.
• Held a public hearing and then voted 7-0 to grant a conditional use permit for an automobile body repair shop at a property zoned commercial at 4882 Stockton Hill Road. The work, including painting, will take place entirely inside a closed building.
• Approved a liquor license for The Garlic Clove Restaurant & Catering Co., 509 E. Beale Street.
• Accepted a sponsorship grant on behalf of the Kingman Area Meth Coalition and Police Department.
The grant, valued at about $3,000, came from the Arizona Governor's Office for Children, Youth and Families.
The funds will be used to purchase materials for a coalition library that provides information on drug prevention, as well as for year's 8th Annual Walk Away from Drugs event.