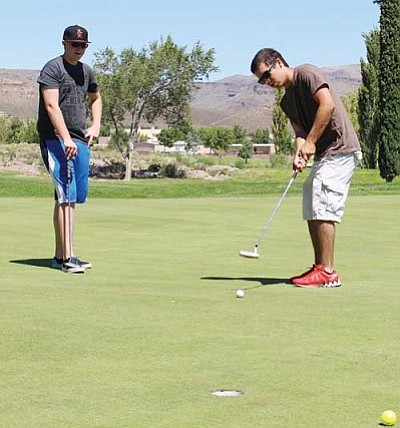 Originally Published: August 8, 2014 6:02 a.m.
The national trend indicates that the game of golf is losing its popularity, but locally that is not the case.
The Associated Press reported on July 24 that Dick's Sporting Goods laid off 478 Professional Golfers' Association teaching pros because sales of golf merchandise had drastically declined.
Bloomberg.com reported in January that more golf courses closed than opened in the U.S. in 2013 for the eighth consecutive year. Bloomberg reported that 14 18-hole courses were opened last year, while 157 closed shop.
Those could be examples of golf losing players, or that the diminished need for teaching pros, equipment and courses may be related to the fact that many people have less disposable income. Whatever the cause is nationally, it isn't so locally.
Cerbat Cliffs Golf Course in Kingman and Valle Vista Golf Course report increases in the amount of rounds played at the respective courses.
Levi Pitts, Cerbat Cliffs golf course manager, said for the same seven-month period of Jan-July between 2013 and 2014 that rounds played has jumped up about 800 from 18,800 to 19,600.
"We've seen a lot more memberships because guys are saving their money and getting more bang for the buck," Pitts
said. "That increase seems about normal for the size of our community."
Despite more rounds being played at CCGC, the Kingman City Council approved a rate hike effective Sept. 1. Green fees will increase $2 with the exception of 9-holes juniors and seniors, and 18-holes juniors, which will cost $1 more.
The city of Kingman released a statement saying there were several reasons for the increases. The city wants to see the time customers spend in line be minimized, to show Council and Kingman residents that CCGC is on its way to being a self-supporting operation, and "another very important reason is that many of our customers have suggested we do this."
The complete statement and new fees schedule can be found at www.cityofkingman.gov/Departments/ParksandRecreation.
At Valle Vista, rounds increased approximately 1,000 to a total of 18,000 from 2012 to 2013 and are expected to hit between 21,000 and 22,000 by the end of 2014. Valle Vista's director of golf, Patrick Friend, said he believes the increase there has to do with building good relationships with players.
"A lot of it is reputation," said Friend, who has been at VVGC for six years. "Six years ago there was no foundation. Now we're getting the word out by spending more money on advertising and other things of that nature. We're also starting to see more houses being built out here."
Valle Vista is a small enclave located about 12 miles northeast of Kingman and has a population of about 1,600. The course gets most of its play from non-residents.
"Eighty percent of our revenue is coming from outside," Friend said. "The members here pay a lump sum and then go out and get their money's worth."