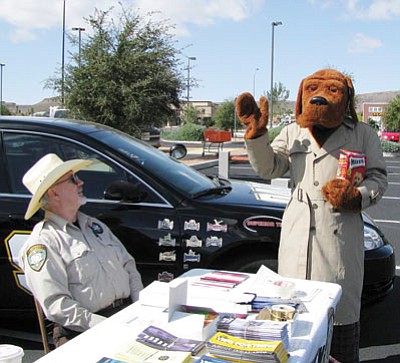 Originally Published: August 8, 2014 6 a.m.
KINGMAN - The Mohave County Sheriff's Office is looking for people to sign on as a volunteer member of the Mohave County Sheriff's Posse.
Members are trained to assist the sheriff's office with non-enforcement duties. The work frees up deputies to focus on law enforcement. Posse members are not called upon to take law enforcement action or carry weapons.
"As a member of the Mohave County Sheriff's Office Posse, you will take pride in knowing that you are making a difference in your community by assisting in reducing crime and helping to create a positive relationship with members of the community and the sheriff's office," said sheriff's office spokeswoman Trish Carter in an email.
The training posse members receive includes crime prevention, introduction to law, driver awareness, patrol procedures, traffic control and radio communications, said Carter.
To qualify, applicants must be at least 18 years old, have a positive attitude toward law enforcement, possess good moral character, have a good driving record and no felony convictions, be a U.S. citizen with a valid Arizona driver's license, pass a background check and an oral board.
Those interested can pick up an application at the sheriff's office in Kingman, 600 W. Beale St.; the Mohave Valley substation at 9880 Vanderslice Road; or at the Lake Havasu City substation at 3500 Highway 95.
For more information, contact deputies Troy Schmotzer or Ryan Bridges at (928) 753-0756.