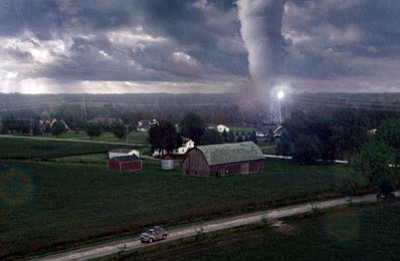 Originally Published: August 10, 2014 6 a.m.
"Into The Storm" delivers not just one but hundreds of tornadoes and firenados  simultaneously bombarding a small town. Fans of the short-lived Discovery Channel series, "Storm Chasers," will appreciate references to the Dominator - an armored storm research vehicle with hydraulic anchoring spikes that can withstand 300 mph wind gusts. In "Into The Storm," this vehicle is called Titus and, unlike some of the cast,  it provides a solid performance.
A high school graduation, two adventure junkies seeking YouTube fame, and two stranded high school sweethearts serve as the backdrop for destruction.
The most realism in the film is displayed during the Chasers' angst that they will not encounter the perfect storm to complete the season with high viewer ratings. Those who enjoy CGI disaster movies will find "Into the Storm" to be more refined and sentimental than the average disaster action film. The firenado and EP5 colossal tornado round out the impressive epic visuals.
Those who are weary from CGI disaster movies will find no redeeming qualities in the cast, plot, or shaky video footage effects. Veteran actors from the feature film "The Hobbit" and TV shows "Walking Dead" and "VEEP" work against a mediocre script.
If you need an action-packed devastation fix, this movie may be for you. If you prefer greater substance, don't get sucked up in this drama.
I give this movie 3 meganados ... uh ... miners.