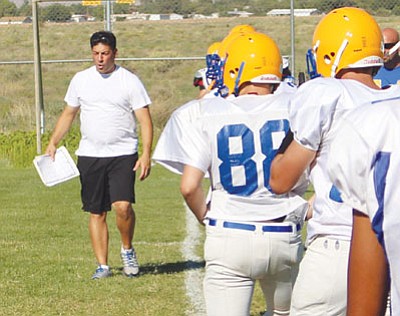 Originally Published: August 14, 2014 6 a.m.
KINGMAN - Ex-Kingman High assistant football coach Mike Pagliaro knows football. When he's been around a program long enough, he's proven he can get things done on the football field.
Pagliaro coached Wickenburg to a 10-1 record in his one and only season in 2009. The Wranglers won the 3A West Region title and Pagliaro was named 3A West Coach of the Year. In 2011, he was on staff at Benedictine University (Illinois) when they won the Northern Athletics Collegiate Conference championship. And he was on the staff of the Chicago Rush in the Arena Football League.
Pagliaro was with KHS for about three weeks before he was removed as a coach this week. He said on Tuesday that he would be offering a letter of resignation in regards to his faculty duties at KHS.
"I'm pretty content with what I have accomplished as a football coach," Pagliaro said. "I've coached at the pro level and I've got a ring with BU."
Pagliaro was investigated by KHS and Kingman Unified School District after a tip from Wickenburg alum Justin Blackburn alerted KHS that Pagliaro might have omitted employment information on his application to the district.
"I didn't want to talk about Wickenburg," he said. "I didn't want the kids to know that there was a coach on staff who had been the 3A Coach of the Year. With the coaching change that had just happened here, they didn't need to be comparing who was a better coach."
Kingman is the fifth consecutive high school job that Pagliaro has resigned from under other-than-normal circumstances. After an on-field confrontation at Paris High in Illinois in 2007, Pagliaro resigned. In 2008, he left CIVA Charter in Colorado as the team forfeited its final three games. Wickenburg got his resignation after it was found his brother, Tom, had been acting as a volunteer coach though he did not have the proper clearance. Tom Pagliaro was convicted in Illinois of felony flight in 2007 after police found him late one night in a vehicle with a 16-year-old girl. He was acquitted on a charge of sexual misconduct.
"Wickenburg knew about my brother," Mike Pagliaro said. "They waited until Week 7 to do anything. But who cares? That was seven (five) years ago."
He said he believed what he's gone through is a result of jealousy. He replaced Norris Vaughan at Wickenburg, whom he said was a legend in Wickenburg. Vaughan went 47-5 during his time in Wickenburg and was named azcentral.com's 2013 Big School Coach of the Year after leading Mountain Pointe to the Division I state championship. He said Vaughan and Blackburn were close friends during Vaughan's Wickenburg days.
Blackburn said he's willing to alert others about Pagliaro only because he cares deeply about education and wants good people in the field.
Pagliaro then was hired at Blackburn High (Texas) in 2010, but that lasted only four days when it was discovered he altered a letter of recommendation from Wickenburg.
"I put it on district letterhead rather than the school letterhead because it had a silly looking Wrangler on it," he said. "I also put my coaching record in there. If that makes me a bad guy, then that's on them. This is high school small-town garbage.
"If people want to take that and run with it, it shows I'm above little high school town crap."
After Wickenburg, Pagliaro helped with the Rush, at Benedictine and worked in sales before arriving in Kingman.
Pagliaro said he wasn't sure if he was going to pursue his high school career or move on to the college level. He did want to make clear that he would do whatever he chooses here in the Grand Canyon state.
"I'm in Arizona," he said. "I'm not going anywhere."