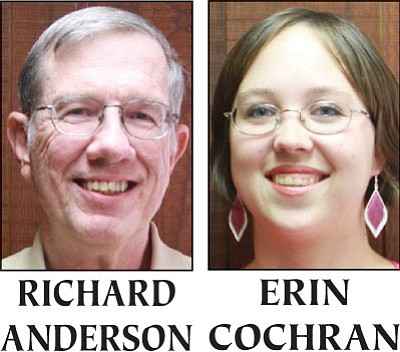 Originally Published: August 19, 2014 6 a.m.
Daily Miner: The City Council has struggled with budget issues for years. Given the fact that sales tax revenues of about $10 million a year fall well short of meeting the city's funding needs, please name at least two, but no more than three, avenues the city might consider in permanently addressing these perennial budget problems.
Cochran: There are a few hard choices the City Council will have to face in looking at the future of Kingman. There is no one, perfect solution to the budget. It is going to take a combination of hard choices and teamwork to find the best solution. There are some solutions that the City Council can decide and others that must go before a vote of the people, as well as long-term and short-term fixes.
The first choice is to cut non-essential services. These are services that do not affect the safety of the residents, such as the Powerhouse, Kingman Area Regional Transit, parks, recreational activities and pools. These are not essential to safety, but are an essential part of the quality of life of Kingman. These are the parts of the budget that make Kingman a community. These are choices that can be made by a vote of the City Council. Although these choices will decrease the budget, it will not fix the future revenue problems such as the need for a fire station on the east side of town or the continued need to repair current infrastructure and any growth-related needs, such as roads and public safety.
The next choice is to keep the half-cent sales tax increase that is due to sunset. This is a short-term choice that can be made by the City Council. This would keep the city stable in the current economic environment, but will not sustain the future growth of Kingman.
This choice will not benefit growth-related needs and will not allow the city to maintain the level of services or quality of life we are currently able to provide. This choice will not allow future councils to have the revenue to address public safety needs or fund future capital improvement projects.
With this choice, all major improvement capital expenses would have to go on the ballot as a bond issue.
The final choice must be placed on a ballot and pass a vote of the people. This choice is a city of Kingman Public Safety Primary Property Tax. A 3 percent property tax would create about a $6 million per year revenue stream. This would be enough to pay for either the police or fire departments. This would then free up that $6 million to address the major capital needs of the city.
Kingman could work on improving the downtown area, fix city streets and remove weeds and trash, as well as allow for revenue to plan for future growth needs.
This is not a choice the City Council can make. The only way to institute a primary property tax is for the residents of Kingman to vote for one.
Each of these decisions would need to be made in conjunction with hard work and dedication to economic development and recruitment of new businesses to Kingman. This will mean a larger sales tax base, more jobs and a healthier economy.
The Miner: What role should the City Council play in attracting employers, such as offering tax incentives, free or cheap land on which to build. or other concessions?
There are many state statutes that restrict a city's ability to negotiate many types of incentives. With the city's main revenue stream as the sales tax, it is very difficult to find a financial incentive to offer.
What we can offer is a transportation hub including a railroad system, Interstate 40, U.S. 93, the future Interstate 11, Route 66 and the Kingman Airport and Industrial Park. We offer clear skies, great weather and hard workers to businesses looking for a home.
The Miner: We are short on police officers and we are in need of at least one fire station. What should the city do in terms of attracting officers? How important is another fire station?
The city is restricted by our current financial situation to offer the competitive wages needed to recruit and retain officers. The city of Kingman police officers are some of the lowest paid in the state and county due to lack of revenue available for employee wages.
With the growth on the east side of town, Fire Station 5 is important. In the last decade, Kingman has seen two new schools, a new hospital (Kingman Regional Medical Center's Hualapai Campus) and several new residential developments bringing in thousands of new homes to the east side of town. The one thing the east side has not seen is an increase in police and fire coverage. Station 5 is needed to protect these new developments.
The Miner: Roads. They're bad and getting worse after years of neglect. What can be done to get back on track if lawmakers refuse to restore Highway User Revenue Funds to 2008 levels?
Kingman has already begun to take the necessary steps to maintain the streets with the reduced HURF funds. In 2012, the Kingman City Council enacted a bar and restaurant tax that is dedicated to maintaining the streets. The Kingman Public Works Department has reinitiated the streets maintenance program. Unfortunately, the cost of maintenance supplies has increased and will continue to increase. It will take the city several years to catch up on the streets that were not maintained in previous years. In the meantime, the city will continue to lobby the state to restore the full HURF funds to the cities.
Final comments?
As the mayor, I will be looking to the future of Kingman. I want Kingman to be a place where people want to live, work and play. I want my children to have plenty of opportunity for expanded education, beautiful, clean parks, and good-paying jobs. I want Kingman to be a place where people are proud to say, "I live in Kingman!"
I am invested in our community. I am not just running for an office. I am part of Kingman and Kingman is a part of me. I am a Kingman Boomer, I am a Kingman Rotarian, I am a soccer coach, I Walk A Mile in the Shoes of cancer patients each year for the Kingman Cancer Care Unit and I spend my Thursday nights teaching my youth group how important it is to have God in your life.
I see Kingman growing and thriving. "Shop Local" is not just a slogan to me. It is my way of life. From my children's toys to my cars, I spend my money in Kingman. My family has two growing businesses here. Kingman is my home, where I am raising my kids, and where I want to make a difference. It would be my honor to be your mayor because the future of Kingman matters. I appreciate all of the trust and support I have received.
from the community.
I want to represent you! Each one of your opinions and ideas matters to me. I have always made myself accessible to anyone looking to share a thought or ask a question and I will continue to keep my door open.