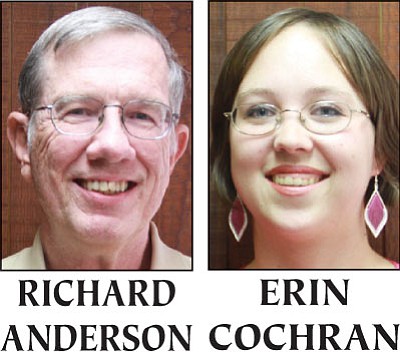 Originally Published: August 19, 2014 6 a.m.
Councilman Richard Anderson opted to provide one answer regarding the budget and the economy.
The Miner: The City Council has struggled with budget issues for years. Given the fact that sales tax revenues of about $10 million a year fall well short of meeting the city's funding needs, please name at least two, but no more than three avenues the city might consider in permanently addressing these perennial budget problems.
Regarding the economy: What role should the City Council play in attracting employers, such as offering tax incentives, free or cheap land on which to build, or other concessions?
Anderson: Taxation does not bring prosperity. The key to a healthy economy is economic development - jobs. A permanent, full-time economic development effort, preferably a public-private entity similar to Lake Havasu City or the state, must evolve and target efforts to attract a mixture of industry, businesses and service jobs offering gainful employment, competitive wages and benefits for the area.
Jobs bring more disposable income for Kingman and area residents to purchase goods, products and services.
The conservative budget estimate of $13.7 million is likely to be exceeded by $1 million based on fourth quarter FY 2013-2014 and current year trends.
I anticipate the International Route 66 Festival (provided) a significant one-time increase in revenue and I hope we establish a recurring themed three- to four-day event to build on this year's success. We have tools in place to sustain recurring service requirements. We do not need tax-and-spend pundits to author more taxes. We must make sure services the city provides are required, needed and performed in the most cost-efficient and effective manner.
It is noted that a conservative city estimate is 50 percent and more of sales tax revenue is collected from out-of-city area residents, tourists and (drive-through motorists on Interstate 40, U.S. 93 and Route 66.)
The local economy is slowly improving. New business and construction employers are adding (to their) workforce. As beams and girders increase, we will see Southwire and Guardian reopen at our industrial park.
The city must work with our Kingman Airport Authority and urge the Federal Aviation Authority to release phase two and three parcels to Kingman for development and recruitment of base industry.
The Kingman Airport and Industrial Park is a key opportunity to add employment and buying power to the area.
With this being said, I expect targets, goals and accountability of our KAA and their management team to bring in business and industry.
I believe it is vital for a full-time public-private entity to facilitate economic development in terms of employment and purchasing opportunities for area residents.
The private piece of the entity can do things that public governments cannot. The new opportunities should be just that, and not serve to degrade current sources. If new business and industry provide economic value, incentives ­- within federal and state laws - and other concessions should be considered. Any "deals" must be a win-win for Kingman and prospective business.
The Miner: We are short on police officers and we are in need of at least one fire station. What should the city do in terms of attracting officers? How important is another fire station?
A standard answer might be to raise pay. I believe a competitive value area pay structure to allow growth and advancement bottom to top and area employment opportunities for the families of our officers is a more comprehensive approach.
I do not believe an officer will just uproot for a 5-10 percent increase in pay, a 20 percent higher cost of living area, a congested commute, with an established pecking order with uncertain promotion and career potential.
It is obvious that more than pay is involved.
Recruiting policies must be flexible and recognize that the hiring of an experienced officer or military police veteran is less likely than starting from ground zero. Volunteer posses are possible, as well as establishing a reserve unit. Policies vary from state to state, but these options need to be explored.
As Kingman grows east, another fire station will be required to ensure response time requirements are met. I believe a joint fire station to include a police substation should be planned. Grant opportunities exist for construction and equipment. Staffing will have to be funded through existing revenue streams.
This requirement will be based on growth. Growth brings spending power. A comprehensive cost analysis must be current.
The Miner: Roads. They're bad and getting worse after years of neglect. What can be done to get back on track if lawmakers refuse to restore Highway User Revenue Fund amounts to 2008 levels?
City revenues for roads are increasing. Additional revenue taxes, such as motel and restaurants, plus current year HURF funding do provide for increased maintenance. Some minor upgrade capability exists. As the area continues to grow, revenues for road maintenance increase. Construction of new roads, however, does not have a dedicated source.
Historically, the city has used an improvement district approach. If new roads become a community priority, a dedicated source limited in scope and time must be established.
Final comments?
The mayor and City Council must re-establish trust and credibility with our residents. I bring a very extended and substantial financial background to the community. During my career, I have held increasingly responsible leadership positions from Army depot and installation, up to and including the Pentagon.
My principal strengths are analytics, communication and leadership. During my term as a city councilman, I have frequently been referred to as the voice of reason and the financial conscience of the council. I speak out on behalf of the residents and know who has to pay.
My biggest frustration has been sewer rates (and no, I am not on city sewer). I have voted against all sewer rate increases because I believe they were too high.
Were increases required to pay prior Council contract decisions? Yes, but not at the levels approved. I have been proven correct, but the Council has not approved a reduction.
I supported a split of a rate reduction and sewer line extension but was voted down 6 to 1. During my term as mayor, I will strongly push to reverse the last 25 percent rate increase.
The Council has consistently implied when revenues exceed recurring requirements, rates would be reduced. This did not happen and I will continue to fight for a rate reduction. My biggest hope is that you get out and vote. Grab a neighbor or two, have breakfast and vote.
You, the voter, determine who and what you want. My campaign platform is about participation, your participation.
Please allow me to work with Kingman, for Kingman.