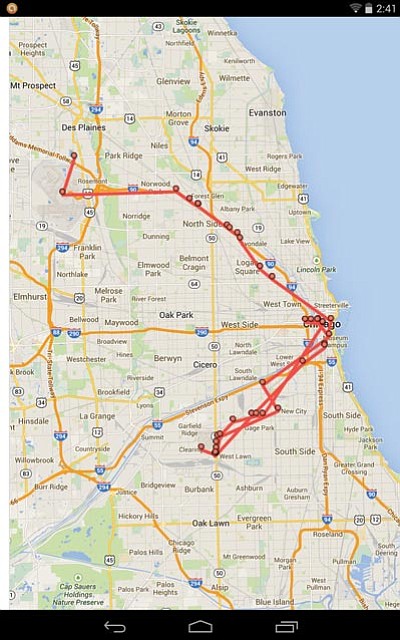 Originally Published: August 21, 2014 6:02 a.m.
We all know that Google tracks nearly everything we do on the Internet. Their primary business model is based on using your information to sell ad space to advertisers, and with a 2013 net profit of $12 billion, it is obvious they are good at what they do.
What most consumers don't know is how much Google uses Location Services on your smartphone to literally track your every move. Just recently, Google users stumbled on a Google Maps function that maps all the times your smartphone checked in, and the results are a little creepy.
If you visit maps.google.com/locationhistory and sign in with your Google account, you will find a map with pins for every time your device has pinged Google's server using Google Maps. You can view your location history up to a month at a time and look at your history as far back as when you started using Google's location tracking.
This isn't a new feature. In fact, it was rolled out years ago with an update for Google Maps. The feature wasn't advertised, and bloggers and journalists didn't pick up on it until recently.
The feature does rely on your Location Services feature on your smartphone, and it only logs your location if you have your phone linked to your Google account. Location Services can be turned off via your phone's settings.
When I looked at my map, I could see all the trips to and from the Daily Miner as well as other trips around town radiating from my home like the spokes of a wheel. I revisited trips I had to other countries (where I had my phone) and saw me going from the airport to the hotel. I got over how disturbing it was pretty quickly and actually enjoyed retracing my steps in detail.
This is definitely a privacy concern, especially for those who don't want Google logging their every move on servers all over the world. You can turn off the feature, but there is no guarantee that your location won't still be logged. Here's how you can disable it:
• Turn off Location Services on your phone.
• To the left of the Google Map with all your information is an option to clear your location history. You can clear it completely or for chunks of time by navigating the calendar above it.
• If you're still reluctant, sign out or delete Google from your phone entirely.
Understand that, outside of getting an encrypted phone or just going off the grid entirely, your location can always be tracked via your smartphone. Many of the conveniences of the Internet use that information get us the information that we want.
Regardless, location tracking raises many questions about where consumers will draw the line in our quest for interconnectivity.