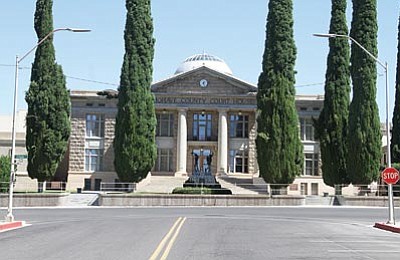 Originally Published: August 21, 2014 6:02 a.m.
KINGMAN - Mohave County Supervisors voted 4-1 Monday to fund $30 million in new government buildings, placing priority on a new courthouse, a decision that stirred the pot among candidates vying for District 4 Supervisor.
All eight candidates - including interim Supervisor Jean Bishop, who voted for the funding - have said they want to curb wasteful government spending and make sure government lives within its financial means.
The county plans to spend $21.6 million on the three-story, 88,000-square-foot courthouse, which would be built across the street from the Mohave County Sheriff's Office. A records warehouse, county morgue, animal shelter and sheriff's substations in Mohave Valley and Lake Havasu City were put on the back burner for now.
District 3 Supervisor Buster Johnson opposed building the courthouse. He said he would rather give priority to the smaller, less expensive buildings.
Revenue sources for building the courthouse include the county's quarter-cent sales tax passed in 1999 for capital improvements. It's set to expire in 2019. The county also budgets $1.5 million each year for building funds.
The county must use money from the special tax for buildings, board Chairwoman Hildy Angius said. The fund is projected to grow to about $35 million by 2019.
Supervisor Steven Moss said the new courthouse is desperately needed. The current Mohave County Courthouse is too small and outdated for new technology needed to handle court cases and would cost too much to renovate.
It has safety, health and fire hazards as cited during an April presentation by the National Center for State Courts.
At Monday's meeting, supervisors discussed building the Law and Justice Center next to the existing Superior Court as a separate building with restoration of the original courthouse. This would include demolition of Arnold Plaza for parking and the old jail.
Bishop said she voted not to abandon Kingman's history, but rather renovate and add on to the courthouse.
"I cannot imagine our old courthouse abandoned as yet another decrepit eyesore in the downtown area," she said. "We owe it to ourselves, our grandkids and this community to keep the courthouse in operation right where it is."
District 4 candidate Al DiCicco, of Golden Valley said his feelings about funding the new courthouse haven't changed since it was first proposed.
"It's unnecessary to spend that much money on county buildings and the money should be returned to District 4 communities," DiCicco said. "We've been paying taxes for decades and there's very little infrastructure in Golden Valley, which we need so we can have a grocery store."
Bob Boyd, a conservative running for District 4, said he's not against building a new courthouse, but he wants to look at the overall project. There are a lot of existing buildings sitting vacant that should be looked at, he said.
"I'm a builder. I'd love to build a $30 million building, but I don't want to build on the backs of taxpayers," Boyd said. "A lot of it is money-driven. We cannot spend above our means. I know you're tired of hearing that, but that's the way it is."
Even if there is a need for a new Mohave County Courthouse, it doesn't have to be a "monstrosity," DiCicco said.
"The impression I get is they just want to keep building big, beautiful government buildings," he said. "When you build a courthouse and jails and prisons, you're set up to continue to arrest and incarcerate people. If you invest in the community, you don't need so many jails and courts."
Supervisors are unsure what will become of the historic 100-year-old Mohave County Courthouse. Ideas thrown around by Kingman residents include a professional office building, performing arts venue, art gallery and museum.