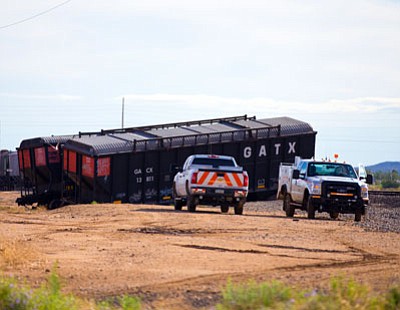 Originally Published: August 24, 2014 6 a.m.
KINGMAN - Three railroad cars from the Burlington Northern Santa Fe Railroad derailed Thursday afternoon on a siding track just south of Kingman Airport, a railroad spokeswoman said Friday.
It was a "minor" derailment with no personal injuries and no spillage of hazardous materials, BNSF public affairs director Lena Kent said. The train had been servicing local businesses, she said.
Track damage was minimal and has already been repaired, Kent added. Cause of the derailment is still under investigation.
There were no incident reports from Northern Arizona Consolidated Fire District, Kingman Fire Department and Pinion Pine Fire Department regarding the derailment.
Mohave County Sheriff's Office dispatchers took a call Thursday about the cars coming off the track but did not respond to the incident as there was no imminent danger to the public, spokeswoman Trish Carter said.
Robert Riley, economic development director for Kingman Airport Authority, said details of the incident are still being sorted out. It will not affect operations within the airport and industrial park, he said.
More than 100 trains a day pass through BNSF's main line in Kingman. The railroad also serves Amtrak's Southwest Chief passenger train service twice daily.
In August 1997, an Amtrak train carrying nearly 300 passengers derailed 13 miles east of Kingman following a heavy rainstorm.
The National Transportation Safety Board determined the probable cause was displacement of the track due to erosion and scouring of inadequately protected bridge foundations during a severe flash flood.
Click for home delivery with comics, grocery deals, inserts, TV listings, coupons and more