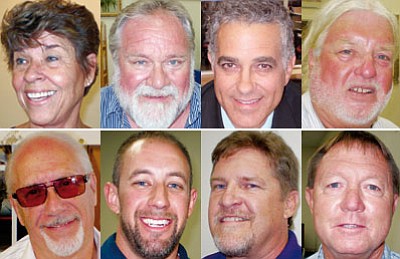 Originally Published: August 24, 2014 6 a.m.
KINGMAN - The race for Mohave County Supervisor District 4 has eight candidates seeking to fill the remaining term of Joy Brotherton, who died in May at age 76. Election day is Tuesday.
The candidates listed their top campaign priorities and how they plan to accomplish their goals at a public meet-and-greet held Tuesday evening at Mohave Community College. They also gave their views on the county budget and their vision to attract new business to the area.
Al DiCicco and Bill Keller were unable to attend the event due to inclement weather. Their comments were taken from a previous candidates' forum.
Here's a profile of candidates:
Jean Bishop: Republican. She was appointed by the board to replace Brotherton. She has an associate's degree from Mohave Community College and Arizona Peace Officer Standards and Training certification. Her experience includes being elected to the office of Cerbat Constable in 2007 and 2010; commander and pilot of Mohave County Air Search Squadron; emergency medical dispatch instructor; and certified polygraph examiner. She's a longtime resident of Mohave County, married to Dan Bishop, and raised two daughters here.
Bishop said she's a fiscal conservative who knows that county tax dollars come from hard-working people who cannot afford to have their money wasted.
Her top priorities are preserving the area's water supply, protecting public lands and reviewing county ordinances, merit rules and the general plan.
"Mohave County has a serious water problem," she said. "We need to stop groundwater from being converted to surface water and stop the BLM land transfer. I still have not met Mr. (Jim) Rhodes and I don't know what he's up to." Rhodes owns Kingman Farms and has been using groundwater to grow alfalfa in the Red Lake area.
Bishop said the budget is balanced and in good shape. At the Aug. 4 board meeting, she voted to approve a $252 million budget with $1.5 million put into the building fund and $13 million in contingency funds.
"I believe the solution to a financial crisis is not raising taxes," Bishop said. "Solutions can be found by looking at our priorities."
Her vision for economic development is to work closely with the city of Kingman and Kingman Airport Authority to expand industrial space and encourage more rapid growth with better-paying jobs.
"We have the infrastructure to support growth and the willingness to make it happen," she said. "Let's make Kingman an inland port and transportation hub in Mohave County, as well as establishing a commercial airline to support business travel."
Bob Boyd: Republican. A Mohave County resident since 1980, he lives in Pinion Pines.
Boyd attended San Diego State University and is co-owner of Floating Islands West, a California company that makes islands for water habitat.
A general contractor by trade, Boyd said it's time for Mohave County to have a supervisor with construction experience on board. He has experience as a project manager and facilities engineer.
He said he has six reasons for running - his children. He wants them to have the same freedom he had growing up in Mohave County.
"I have passionate feelings for our citizens and the county of Mohave and I have the ability to commit my life to their future," he said.
Boyd said his priority is taking people's concerns directly to county department heads and meeting with them to discuss the budget and operations.
"First and foremost, our government exists for you, not the other way around," he said. "County government must live within its means, spend less than it takes in and strive to be debt-free. I know you're tired of hearing that, but that's the way it is."
He's open to any economic incentive to bring new business, employment and revenue to Mohave County. There are a lot of untapped recreational industries that would work well here, he said.
Boyd said the county needs someone who's still in their prime and has the willingness to work. "I've never been afraid of work," he said.
Al DiCicco: Republican. Currently on disability due to a back injury, DiCicco was previous employed as a reporter at the Daily Miner and also worked as director of the truck driver training program at Mohave Community College. He has a bachelor's degree in communications and fine arts from Southern Illinois University.
He calls himself a reformist and liberty activist from Golden Valley who doesn't like wasting money and sees a lot of that going on here. He lobbies against raising taxes and wasted spending of tax dollars. He is not endorsed by the long-time establishment of Arizona or Mohave County, and said he does not pander or owe any political favors.
DiCicco said he understands the needs of both the county and its citizens. He lobbied against property tax increases after the housing crash in 2007 and launched a campaign in 2012 to bring a grocery store to Golden Valley. He does not support the $35 million spending plan for new government buildings in Mohave County.
"The general consensus from everybody here is they're not getting anything for their tax dollars," DiCicco said. "I'd like to see more road improvement."
In 1998, he ran for lieutenant governor in Nevada and received about 2,800 votes without any campaign contributions.
Jack Ehrhardt: Democrat. He's a 35-year resident of Mohave County who worked 12 years as planning and economic development director for the Hualapai Tribe and as superintendent for Woodruff Construction in Flagstaff. He's president of A.C.E. Builders, a licensed Arizona commercial and residential contractor.
Ehrhardt has extensive experience in construction management, budgeting and finance and urban planning. He also has a background in sustainable green building practices such as solar energy, grey water recycling and recycled content material.
"I have been a social and environmental justice activist my whole life and have infused paradigm shift in sustainable community design and building," he said.
A graduate of Santa Barbara High School and Santa Barbara City College, Ehrhardt said he came to Mohave County in his mid-20s for its natural beauty, rivers and lakes.
"Mohave County needs to be completely shook up," said Ehrhardt, who labels himself as a conservative Democrat. "The whole system of Mohave County needs efficiency in departments and more attention to Golden Valley, Dolan Springs and Meadview. We need some infusion of new assistance to coordinate state and federal resources, whether it's water, air quality or economic development. I'm a professional at getting grants."
Bill Keller: Republican. A 17-year resident of Chloride, he worked 11 years as a construction superintendent and five years as an estimator. He went to college in Wisconsin and has a background in managing budgets.
"My background lends me to two things - knowledge and vision," he said. "If you can't visualize a new car in your front yard, you'll never have one. You have to have vision."
Keller said there's a lot of land in Mohave County "begging to have something built on it," and he has the background to bring industries that don't use water and don't pollute.
By building a strong industrial base, the county won't have to keep taxing its citizens, he said. "This county wreaks and oozes potential. What we need is someone to harness that potential," Keller said.
Keller is against raising taxes. If the Board of Supervisors work at bringing industry to Mohave County, taxes can go down for its citizens, he said.
Mohave County's median household income is $10,000 less than Maricopa County, so we need to bring in industries with higher-paying jobs, Keller said.
Travis Lingenfelter: Republican. A third-generation Mohave County resident, he graduated from Kingman High School and has a degree in political science from Northern Arizona University and a master's degree in public administration from Norwich University in Vermont.
He came back in 2004 to work as Mohave County procurement director and then economic development director, recruiting companies such as Scot Industries and Henderson Trucking. He owns Doctor C, a vitamin supplement company.
Lingenfelter said he has a proven record of integrating policy vision into administrative strategies and creating performance-driven operations focused on positive organizational outcomes.
He has a 6-year-old son and 12-year-old daughter and said he doesn't want to see them move away when they're older because there are no opportunities in Kingman.
His top priority is economic development.
"We need a target industry analysis to pursue new base industries like manufacturing and logistics that export outside Mohave County," Lingenfelter said. "There are a lot of companies we can attract. We're as close to doing business in California as you can get without being in California. We would also retain industries that are already here."
He said an educated and researched economic development effort should focus on higher, value-added "base sectors" that will broaden the county's tax base and thereby lessen the burden on taxpayers. Such an effort will add quality to the current employment base and create additional job opportunities, he said.
Lingenfelter said the county needs to work with Mohave Community College on training programs that would serve the business workforce and look at new and innovate ways to attract business.
Another priority is to keep Mohave County as an affordable and sustainable place to live. The water law that allows for drilling groundwater for "beneficial use" is essentially the same as when it was written in 1931, and that needs to be changed, Lingenfelter said.
Jack Pozenel: Republican. He was recruited to Mohave County 10 years ago by a title company and now works for Chicago Title. He's a veteran of the U.S. Air Force and was president of the Kingman Rotary Club this year. He and his wife own Heaven Sent florist and have three teenage children.
In talking with voters, Pozenel said he found their No. 1 issue to be crime, especially in Chloride and Meadview where only two deputies are assigned. Criminals listen to the police scanner to find out when deputies are not in the area, he said.
"It puts quite a strain on them. These are basic services taxpayers deserve," Pozenel said.
Roads are also an important issue. Budget cuts seemed harsher for public works employees, he said. Pozenel is against raising taxes and said the county needs to look at every department for cuts.
Water is a "definite issue," Pozenel said. He fought the removal of the water element from the Mohave County general plan.
Pozenel served as Mohave County Planning and Zoning commissioner from 2010 to 2013 and worked with development services to consolidate and streamline "archaic language" into a workable document for staff and the public.
As for economic development, Pozenel said it's hard for a business to relocate here when we have some of the lowest education rankings. He's worked with the WAVE JTED school board since 2009 in lifting student test scores and graduation rates.
Ted Roper: Republican. He's been a Mohave County resident since 1959 and graduated from Kingman High School. He received a management degree from University of Phoenix and worked six years for Santa Fe Railroad, scheduling work for 30-40 people. He is currently supervisor of Mohave County's flood control district, where he said he gains good insight on county issues and what needs to be done.
"My No. 1 priority is jobs. Expand the tax base. Government doesn't create jobs. Business creates jobs. I'd like to identify companies pulling out of California and going right past us to Texas," Roper said. "Why are they going there? We need to identify where those problems are and get a good plan to bring those companies here."
Mohave County needs to aggressively advertise recreational attractions such as the Grand Canyon Skywalk, Route 66, London Bridge, hiking trails and 1,000 miles of shoreline.
Roper's second priority is to protect natural resources and monitor water use in Golden Valley, Red Lake, Planet Ranch and Willow Beach.
"Third, we need to make county government more effective and efficient by continually training our employees and giving them the proper tools to do the job right the first time," he said.
As for the budget, it looks pretty good, Roper said. In a shortfall, he would make cuts, not raise taxes.
"I would start with natural attrition. When an employee leaves or retires, determine if that position needs to be filled or not," he said. "The state mandates that the county provide certain services. I would look at non-mandated services and then determine where cuts could be made."
Roper was also a former Bullhead City police officer who was involved in a lawsuit for allegedly entering a home without a search warrant and beating up a man in a wheelchair. The case was settled for more than $800,000. Roper testified in court that he was violently confronted by the man outside his home.
Click for home delivery with comics, grocery deals, inserts, TV listings, coupons and more