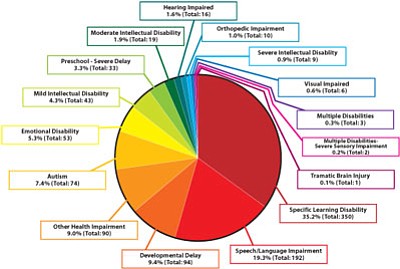 Originally Published: August 25, 2014 6 a.m.
KINGMAN - Before 1974, when the U.S. Congress enacted the Education for All Handicapped Children Act, many special education students across the country weren't able to attend school because they weren't wanted there.
That quickly changed with the new law. The act required all public schools accepting federal funds to provide equal educational access to children with physical and mental disabilities. Schools were forced to evaluate the children, create a plan with parents that would mimic the educational experience of non-disabled students, and offer a system to resolve conflicts between parents and the school system.
The act also contained a provision that disabled students must be placed in the least restrictive environment that allows the maximum possible opportunity to interact with non-impaired students. Separate schooling could only occur when the nature of the disability was such that instructional goals could not be achieved in the regular classroom.
For Kingman Unified School District, that has meant focusing on filling the needs of the students who fit that bill over the years. This fall, 995 students in the district have been identified through Individualized Education Programs as having special needs. The district's Exceptional Student Services Department oversees their instruction and integration.
"When a community at large accepts individuals with special needs, it makes the community much richer, just by everyone being aware of the differences and appreciating what these individuals bring to the table," said Mollie Casson, director of ESS. "As adults, they have persevered and are good role models to others who haven't faced those challenges.
"If we're meeting individual student needs now, these children will be achieving. If we're providing for them, they'll be supported by everyone. What we're doing here at KUSD is for the good of all of us in the community. I don't think people realize the benefits that have been gained from helping people with disabilities."
The students' special needs include speech, hearing and visual impairment, traumatic brain injury, learning disability, autism, severe delay in preschool, emotional disability, developmental delay, and mild to moderate intellectual disability. Some have more than one disability. All are taught in environments that range from restricted self-contained classrooms to general education classrooms.
The district accomplishes that goal with a team of 75 staff, said Casson. They include secretaries, speech therapists, speech and language assistants, physical therapists, counselors, occupational therapists and school psychologists. The district has budgeted about $5.4 million to special education costs for the 2014-15 school year.
Another large annual contributor to the district is the U.S. Department of Education, whose grants have increased from $1.3 million in 2009-10 to $1.5 million last year. The amount for this year's grant has not been set. It pays for some professional salaries, many paraprofessional salaries, teacher training, stipends for the additional unpaid time teachers spend writing up reports, and materials and programs.
The district is always looking for grants, said Casson, and her department is no different. This summer, it received a grant for $23,000 worth of training from a new assistive technology program administered by the Arizona Department of Education. The grant also will underwrite registration, meals and lodging. Last year, the district purchased 33 iPads for the use of special needs students.
"There are so many applications on them that are great for students with disabilities," said Casson. "Even students with the most serious needs want to be like their friends and have an iPad. We are going to keep going in this direction in the future and are really excited about what we're seeing."
The district also got a K-3 Autism/STAR grant this year worth $6,000 in materials and training for seven district teachers who work with students with autism. In July, a group of preschool teachers were trained by the state education department, and the district wants to expand that to teachers through third grade this year. STAR stands for Strategies for Teaching Based on Autism Research.
And beginning last year and continuing this year, the district received a TIERS/DART grant from the state education department for about $9,600 each year to provide training that will help improve reading scores for both special education and mainstream students. KUSD reading scores have been below the state average over the past three years, said Casson, and teachers need additional training to tell which students could benefit from more assistance.
Three of the district's schools - Desert Willow Elementary, Black Mountain School and White Cliffs Middle School - will participate in a session in Kingman this year with Dr. Deborah Reed, a nationally recognized instructor from Florida State University. She will show participants how to recognize the various-level learning groups and appropriately teach them.
Also, the district is hoping to take part in a $1.7 million grant over five years that would be split between it and two other school districts in the state. If received, the new grant would assist with mental health needs, from hiring personnel to increasing awareness and prevention. A final determination by the state education department has not been made yet.
"It would be a great gift if we get to participate," said Casson. "There is a big need for something like this across the nation. When the economy is down a long time, families get stressed and illnesses that normally wouldn't come out can be seen, such as depression and behavior problems. Mental health issues in children have been neglected and we need to address them to help our students succeed."
Click for home delivery with comics, grocery deals, inserts, TV listings, coupons and more