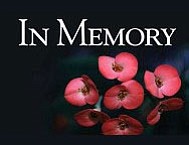 Originally Published: August 27, 2014 6 a.m.
William "Billy" Martinez, 62, of Needles, Calif., went to be with his heavenly father on Aug. 16, 2014.
Billy was born June 1, 1952, in Chelsa, Mass., to Bill and Myonia Martinez.
Billy is survived by Phyllis Martinez, his wife of 30 years; his daughters, Lilly of Ohio and Melissa of California; sons, Clayton and Jason of California; sisters, Marion Arroyo and Myonia Martinez of Kingman; and many nieces, nephews and cousins.  
Billy was preceded in death by his parents, daughter Mary Angela and a granddaughter.  
Billy was a wonderful husband, father, uncle and brother.  He will be missed by many.
"There are no goodbyes for us. Wherever you are, you will always be in our hearts." - Mahatma Gandhi
As per Billy's wishes, there were no services, but the family gathered together on Sunday to share everlasting memories.
On behalf of the entire family, we would like to thank all the nurses in the ICU at Western Arizona Regional Medical Center for all the care they gave in his last days, as well as Lietz-Fraze Funeral Home.