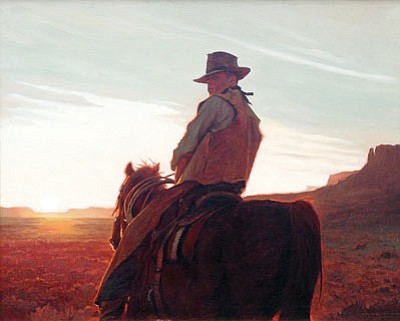 Originally Published: August 27, 2014 6:02 a.m.
KINGMAN - Mark Maggiori knew he'd found his life's calling in 2011 when he visited the National Cowboy and Western Heritage Museum in Oklahoma City.
There, he saw Western landscape and cowboy paintings by famous artists Frank Johnston, Frederic Remington and James Reynolds. Maggiori, who attended the prestigious Académie Julian art school in Paris, fell in love with the oil paintings depicting the rugged scenery and solitary way of life.
"I had a big revelation there," said Maggiori. "It blew my mind. I told myself that I wanted to do that. The Old West is the American dream in France and I've always wanted to come here and do something with it.
"But I'm not a rancher or a horse rider, so I had to find my own way to get into it."
For Maggiori, a French film director who moved here from Los Angeles in October to produce music videos and short films, that meant increasing his output of paintings.
He'd already completed several and posted them online for others to see, including one of his wife, Petecia Lefawnhawk, who grew up in the area, sitting atop a buffalo.
A friend saw them early this year and mentioned his work to Logan Maxwell Hagege, a painter who sells his Native American artwork through Maxwell Alexander Gallery in Culver City, Calif. Hagege took Maggiori under his wing and brought him into the gallery, where his painting was shown in last month's Vermilion Cliffs & The Four Corners exhibition.
About 10 of Maggiori's Western paintings also are at the gallery, including "They Were Heading West," "Bandana" and "The Branding." The gallery also represents Jeremy Lipking and Glenn Dean.
Because of that exposure, Maggiori got an appointment with the Gerald Peters Gallery in Santa Fe, N.M., in June and his artwork was accepted for display there, too. They were included in a group showing in August, and will be highlighted in a duo artist presentation in October. The gallery also represents the estates of Ansel Adams and Andy Warhol.
Creating the type of Western art collectors are willing to pay the $3,000 to $5,000 he now asks for each painting has been a challenge, said Maggiori, because there are specific parameters he must meet.
Paintings must have gold frames, which can run $400 to $1,000 each, and they must be varnished after the paint dries.
Also, the composition and subject matter of the painting is important to collectors, said Maggiori. He has discovered that they don't like crosses in their paintings, such as those found on old missions, and they don't like to see the rear ends of the horses.
Also, collectors prefer Western paintings that have no time factor and could have been done either 100 years ago or yesterday.
Maggiori said many contemporary Western artists like him are bringing a stronger and more stylized form of painting to the table that isn't readily visible to those who don't recognize it.
His goal is to be invited to enter and win the National Cowboy & Western Heritage Museum's Prix de West Purchase Award, which Lipking won this year.
"I love painting Westerns and want to do this for the rest of my life," said Maggiori. "I'm painting what I imagine the Old West was like and romanticizing what westerns are to me. I'm getting to do what I enjoy, and I really dig that."