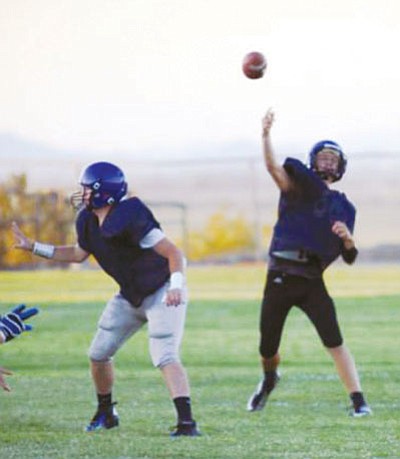 Originally Published: August 27, 2014 6 a.m.
KINGMAN - After Saturday's scrimmage at Needles, Calif., the Kingman Academy High football team gained confidence and now looks forward to Friday's season opener against Laughlin at 7 p.m. at Southside Park.
"We stepped it up a level," said KAHS coach Dan Stroup. "Our linemen played really well. They hustled to get to the extra blocks."
Going into the scrimmage, the Tigers were concerned about the line and the defensive secondary. Whereas the line answered a lot its questions Saturday, the secondary has a few left to answer come Friday.
"The line really showed up," the coach said. "We found some areas where we may need to change things up."
One of those areas won't be the play of defensive back Tate Butler. Though Butler is only a sophomore, he proved a lot to the Tigers' coaching staff.
"Tate Butler played very well out there," Stroup said. "He can play."
The coach talked up his defensive unit's ability to pursue the ball before Saturday's action, and Stroup wasn't let down. Senior linebackers Chy Banda and Ethan Tibbetts led the charge for Academy.
"The pursuit was really good. We swarmed like we expected," the coach said. "Tibbetts was awesome."
Junior quarterback Will Herbine threw for two touchdowns - one each to Butler and Banda - and rushed for a third. Herbine completed passes to five different Tiger receivers.
"I'm very happy with the dealing around. That's our game," Stroup said. "Will is always looking downfield. He can run, but he's looking to pass. He moved around in the pocket Saturday to complete passes. He knows when to take off, and he's good at making those decisions."
Academy defeated Laughlin 35-14 a year ago in Nevada, and this year's Tigers bring a different style to Friday's game against the Cougars with Stroup in his first year at the helm.
"I thought we moved ahead and got better," Stroup said. "You either get better or you get worse. We're taking it one at a time. Our goal is to go 1-0 one week at a time."