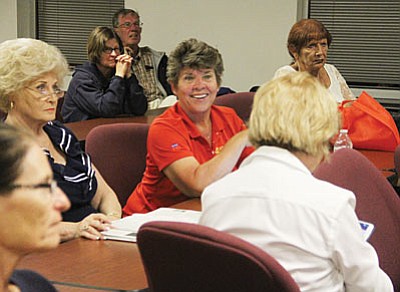 Originally Published: August 27, 2014 6 a.m.
KINGMAN - Jean Bishop led the field Tuesday in the contest for the Republican nomination for Mohave County Supervisor District 4, beating her two closest rivals by more than 200 votes.
In complete but unofficial returns, Bishop had 1,066 votes, or 27.9 percent of the total. Bishop was appointed to the seat in May to fill the term of the late Joy Brotherton.
Behind her were Travis Lingenfelter (852 votes, 22.3 percent); Ted Roper, (818 votes, 21.4 percent); Bob Boyd (643 votes, 16.9 percent); Jack Posenel (253 votes, 6.6 percent); Bill Keller (93 votes, 2.4 percent); and Al DiCicco (89 votes, 2.3 percent). There were three write-in votes.
Bishop said her history speaks for itself, having been twice elected Cerbat Precinct Constable in 2007 and 2010. She spent the better part of Election Day speaking to constituents at the Golden Valley Fire Department training center.
"People voted for me a long time ago and I've never disappointed them. They trust me," she said.
Lingenfelter said he didn't see a large turnout at the polls Tuesday, but a lot of people may have chosen to vote early.
"The general consensus seemed to be that they really just wanted to see actual results from the candidates that were ultimately elected or selected to continue in the general election," he said.
The Republican nominee will face Jack Ehrhardt, the lone Democrat, in the Nov. 4 general election. Ehrhardt had 748 votes, or 97 percent, in early results Tuesday.