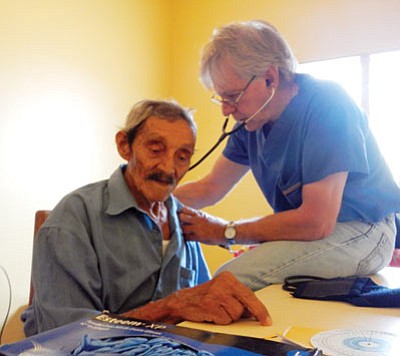 Originally Published: August 28, 2014 6 a.m.
KINGMAN - The 60s have been good to Dr. Ken Jackson.
In the past six years, the 66-year-old family doctor and obstetrician/gynecologist at Kingman OB/GYN Associates has come into his own.
In 2010, Jackson was named Country Doctor of the Year by Staff Care, the largest physician staffing service in the country, for exemplifying the spirit of rural practitioners in communities of 30,000 or less.
That same year, his book "Manifest West" was published, a Southwestern contemporary tale of passion, mystery and redemption involving a traditional doctor and a medicine man.
In 2011, Jackson was written up in several prominent magazines for his medical work on Native American reservations, including USA Today and AARP.
Now, Jackson, who has lived in Kingman for 23 years and practiced medicine for 40 years, is adding another first to this special decade.
Jackson recently traveled to Honduras, a poor country in Central America, where he worked with a team of medical professionals treating residents for eight days in Tular, a remote village with no running water.
"The trip was well-organized and we went to establish a presence so we could go back again," said Jackson. "There were 200 people waiting for us at the clinic on the first day, and we saw them all. When I first came to Kingman, I saw 50 to 60 patients a day, and that was a full day then. So you can image what this experience was like for me."
The trip, which began July 18 when Jackson flew to Miami, was part of Mission of the Heart, a health outreach of Grupo Agrolibano, a consortium of companies that grows melons in Honduras. Jackson's daughter, Melissa, runs Mission of the Heart, and both of them, along with her boyfriend, Rena Contreras, and his mother, Maria Martha Diaz Velasquez, went on the trip.
Before leaving, Jackson gathered up five boxes of expired supplies from Kingman Regional Medical Center's Hualapai Campus and shipped them to Miami so they could be taken to Honduras. The supplies included sutures, syringes, catheters, glucometers to test blood sugar, gowns and drapes.
The group also brought about $4,000 in medicine, from vitamins and parasite pills to painkillers and antibiotics.
From Miami, they traveled to Tegucigalpa, Honduras, which Jackson described as a dangerous place to stay. He said Honduras is the second-poorest nation in the Americas, with 60 percent at or below the poverty level. It is the murder capital of the world, said Jackson, with 90.4 homicides per 100,000 people annually, compared to five homicides per 100,000 annually in the U.S. and two in Canada.
"Everyone lives behind walls and razor wire there," said Jackson, noting Honduras is the in-between point for illegal drug transportation between South America and the U.S.
"They don't leave their cars on the street and they don't linger at stop lights. There's no walking, running or jogging on the streets."
The remote village of Tular, where they ended up for their work at the clinic, was much safer, said Jackson, although the group was accompanied by two armed guards at all times. They met up with a general surgeon, a nurse, two medical students and an administrator, although the surgeon and nurse were sent to work at a small local hospital.
During his time there, Jackson saw a few real diseases, but most of the patients who came to the little clinic for treatment worked in the fields and were very hardy. They suffered from aches and pains, high blood pressure, diabetes and asthma, and were given the appropriate medications to heal their ailments. Others, including children and pregnant women, just needed vitamins.
Jackson said he'd like to go back to Honduras on a regular basis, like every six months, to treat the residents and get to know them better. The group's next mission will target the northern end of the country, a lush, tropical but violent area where the seventh journalist slain this year in Honduras was killed in August.
"There's a saying out there that service is the highest form of human endeavor, and I believe that," said Jackson. "I practice medicine because it allows me to feel worthy and relevant, and it's nice to do that for a population that doesn't have much.
"I grew up well-protected, loved and supported, and it's rewarding to give back to those who don't have such favorable circumstances in their lives."