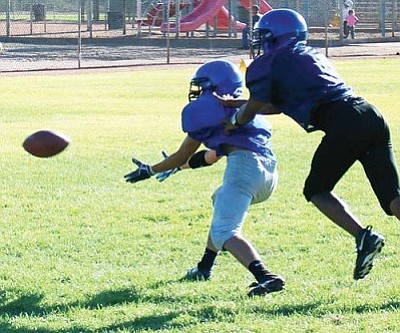 Originally Published: August 29, 2014 6 a.m.
KINGMAN - New philosophies across the board will be on display by Kingman Academy High when the Tigers open the regular season against Laughlin at 7 p.m. today at Southside Park.
Academy defeated Laughlin last year 35-14 in Nevada, but a whole lot has changed for the Tigers since then. Dan Stroup is in his first year as coach for Academy, and he's brought in a new offense (spread), defense and culture to the Tigers.
"We will see if we can bring it home and get people excited about our brand of football," Stroup said. "Lord willing, we'll be in control of the game and get our young kids some ample playing time."
Whereas Stroup is the architect of the new offensive scheme, junior Will Herbine is the engineer as the Tigers' quarterback. Herbine said the unit is heading in the right direction.
"It's getting way better," the quarterback said. "From spring, it's become second nature."
And player personnel appears plentiful on the offensive side.
"We have a lot of weapons and have many ways of scoring," Herbine said. "We have to work as a team to do it, and we've been doing that."
The Academy nearly blanked Needles, Calif., at last Saturday's scrimmage, only giving up one touchdown in the practice game. The Tigers' defense is ready for kickoff.
"We're doing pretty good," said senior linebacker Chy Banda. "We're prepared, and we did well against Needles."
Stroup has been touting Academy's ability to pursue the ball defensively, and Banda helps lead the charge.
"We're very aggressive and don't let them get any yards," the senior said. "The linebackers are in on every tackle."
Stroup wanted 11 different players on offense and defense, and he almost got there. The Tigers' senior Ethan Tibbetts and sophomore Tate Butler are expected to be the only two on both sides of the ball. Butler is playing offense due to a banged up Chris Pfeiffer, a senior wide receiver. Pfeiffer was impressive all preseason for the Tigers, and Stroup wants him to heal up for the meat of the schedule.
"My plan was to get 11 and 11 when I came to town," the coach said. "I'm happy with where we are toward getting that."
Another point Stroup made about the Tigers is that today's starters aren't necessarily the starters for next week's contest.
"We hire and fire here at the Academy," he said. "It's a yearlong competition. This gives the backups a chance and makes the starters keep their jobs."
As the Tigers' season starts, the team is pumped up to get things rolling.
"We've been working so many months for tomorrow night (today), and that's exciting," Stroup said. "The kids are revved up, and the school environment is really fired up."