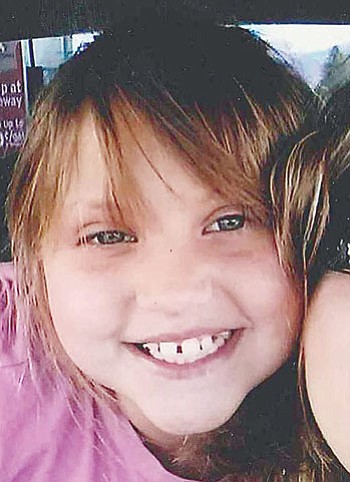 Originally Published: December 1, 2014 6 a.m.
KINGMAN - Judge Lee Jantzen must decide if a murdered 8-year-old girl's autopsy report should be part of the public record.
Bella Grogan-Cannella's partially clad body was found in a shallow grave in early September, one day after she was reported missing from her Bullhead City home.
Justin James Rector, 26, has been charged with her murder and prosecutors have announced their intention to seek the death penalty if Rector is convicted.
Chief Deputy Mohave County Attorney Jace Zack on Wednesday filed court papers requesting the judge make the determination on the girl's autopsy, saying his office received a public records request from a media outlet.
According to court papers, Jantzen is required to balance the public's interest with the privacy concerns of Grogan-Cannella's parents.
"In this case, the court may also want to consider the impact of release of the records on the defendant's rights to a fair jury and trial," said Zack in his request.
Mohave County Medical Examiner Rexene Worrell determined Grogan-Cannella's cause of death was strangulation. Grogan-Cannella's body was bare from the waist down when it was discovered in a wash about a mile from her home, a fact that led to speculation she might have been sexually abused. Worrell did not discuss the autopsy in detail, but Rector does not face charges of a sexual nature.
Prosecutor Greg McPhillips following an earlier hearing said DNA swabs were taken and sent to an Arizona Department of Public Safety crime lab and he was waiting to learn the results.
Rector was reportedly under the influence of methamphetamine when he allegedly snatched Grogan-Cannella from her home sometime after midnight on Sept. 2.
His attorney, Mohave County Public Defender Harry Moore, earlier requested Rector undergo a mental health examination to determine his competency to stand trial. McPhillips filed a similar request as mandated by state law. The results will determine if Rector has the wherewithal to assist his attorneys. If the answer is yes, the question is whether he remains eligible for the death penalty.
Rector has said very little in court, but in an early November hearing he did make a request that he be allowed to act as his own attorney.
He will be back in court on Tuesday. Jantzen will likely discuss the examination and the request to make public Grogan-Cannella's autopsy results. Jantzen has postponed any decision on whether Rector can represent himself.
Rector was indicted on a host of charges. The most serious is first-degree murder. Rector also faces charges of kidnapping and abandonment of a body.
Grogan-Cannella's mother, stepfather and step-grandmother were arrested about a month after her death and charged with crimes related to trafficking in methamphetamine.
The investigation into the girl's death led Bullhead City police to believe meth was being sold out of the duplex in which the family lived.
Click for home delivery with comics, grocery deals, inserts, TV listings, coupons and more