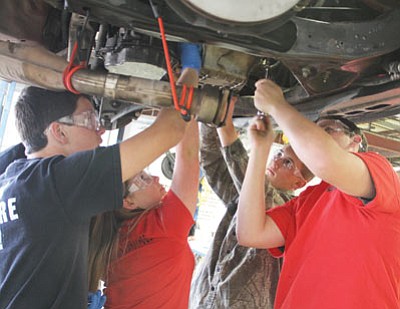 Originally Published: December 3, 2014 6 a.m.
KINGMAN - Gabrielle Schmidt wasn't looking for a career when she signed up in August for the new automotive repair program at Lee Williams High School.
Schmidt, 16 and a junior, wanted to learn more about repairing vehicles for her own personal knowledge. Schmidt, one of three females in the 60-student course, has been racing junior dragsters since she was 8 years old in cities such as Denver, Phoenix and Las Vegas.
"I race on the weekends and I want to know more about my cars," said Schmidt. "Everything I'm learning here applies to my racing. I want to know more about what my dad is talking about when he discusses the cars, and I want to be able to repair my own cars so I can save money."
So far, the Golden Valley resident is on the right track for accomplishing both goals.
Since the class began, she and the other students have learned how to repair brakes, replace a radiator, drop a gas tank, change the gasket in an oil pan, replace rack and pinion steering, change water and fuel pumps, and fix the parts in a cooling system.
The program, which is in its first year in the Kingman Unified School District, is part of the Western Arizona Vocational Education/Joint Technical Education District that provides and funds continuing education classes at Kingman and Lee Williams high schools.
Instructor Manny Silva said WAVE/JTED invested about $250,000 in the program this year, with about $80,000 going toward two master toolboxes filled with tools and $6,000 for course books.
This month, the program will be getting a $100,000 alignment rack, as well as three new lifts and a state-of-the-art tire machine and balancer.
About 120 students are currently on a waiting list for the two-year program, which includes a semester each of basic automotive instruction the first year and an advanced class the second year. The program uses an Automotive Service Excellence curriculum and provides ASE certification for those who complete it.
Hands-on learning
Silva, who has never taught school and does not have a teaching degree, was tapped by LWHS Principal Gretchen Dorner, a longtime friend of the auto mechanic. At one time, Silva had his own shop, said Dorner, and it was his years of experience and passion for sharing knowledge with young people that led her to choose him.
"I'm thrilled that this program is here," said Dorner. "The students are demonstrating motivation to learn, and applied learning is the best kind of learning. This program is both important and relevant for students, whether they use it for personal knowledge or a career."
As Silva circulated around the garage, pausing to answer questions and demonstrate techniques, students gathered in groups and worked on repairs.
At one table, they gathered around a fuel tank and struggled to install a fuel pump. In another area, students stood underneath a car on a lift as they installed an oil pan.
Two groups of students worked on another car, with one group installing a rotor, brake pads and caliper on a wheel before topping it with a tire.
The other group had removed a strut and then reinstalled it, just to get practice on the common procedure.
"Most of these kids don't have a background in the automotive field," said Silva as he watched. "They spend a lot of their time on video games. In fact, I had to show some of them what screwdrivers and sockets are.
"At first, I didn't think they could do this. But now they have these cars apart and are working on them. It's pretty amazing."
Job plans
LWHS junior Tanner Kemp, 16, is using the education to create a career that he hopes will include working as a game warden, "cowboying" at rodeos and squeezing in automotive side jobs.
Kemp recently received career counseling from a mechanic friend at a local dealership and had been busy calculating how many vehicle repairs he could line up in a day.
"It's all about having a secure future, and if you have two or three things to fall back on, you have all kinds of options," said Kemp. "I'm getting a huge future out of this program. I'm learning teamwork, how to work hard and the importance of finishing what I start. I'll get my ASE certification here, go on to college and ultimately make something good of myself."