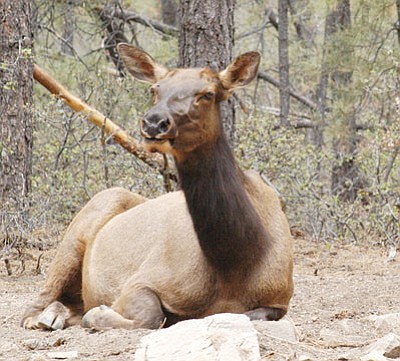 Originally Published: December 3, 2014 6 a.m.
KINGMAN - In an effort to enforce and study compliance with state wildlife laws, the Arizona Game and Fish Department will work a roadblock during the antlerless elk hunt.
"Every hunter leaving the area of the roadblock will be subject to having any wildlife taken inspected," said Zen Mocarski, the department's public information officer for Region 3 in Kingman.
The roads will be blocked in the Kaibab National Forest, which borders the Grand Canyon, after the season starts this weekend.
"We'll be checking for evidence of legality, a current hunting license, the proper tag and that the tags are properly affixed to the animal," said Region 3 law enforcement program manager Karin Perkins.
Hunters not in compliance will be cited, she said. The roadblock will be the first in Region 3, but they have been held in the past.
The objective, said Perkins, is to study overall hunter compliance with hunting laws. She said hunters in compliance will quickly pass through the roadblock.