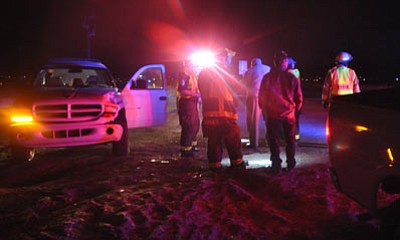 Originally Published: December 3, 2014 4:55 p.m.
GOLDEN VALLEY - A two-car collision snarled traffic for about an hour around 6 p.m. Monday on Highway 68 at Colorado Road in Golden Valley.  
While the damage to the vehicles was described as relatively minor and no occupants were transported for injuries, fire department officials warned drivers of the dangers of approaching any emergency scene.  
Assistant Chief Jack Yeager said motorists should slow down as they approach scenes and carefully look for firefighters, police officers and bystanders who often don't stand out with all the emergency lights and first responders wearing reflective vests.  
"We have a significant amount of accidents on our local highways, and first responders are often killed from inattentive motorists looking at the emergency scene and not the people around the scene," Yeager said.