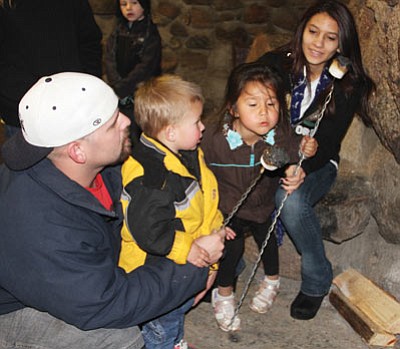 Originally Published: December 4, 2014 6 a.m.
KINGMAN - Santa Claus is coming to the mountains this weekend for Santa's Hualapai Wonderland at Hualapai Mountain Park, 6250 Hualapai Mountain Road.
He'll be there from 1 p.m. to 5 p.m. Saturday and Sunday to visit with children. The entry fee to the park is $7 per car.
Along with Santa, there will be hay rides, crafts, photo opportunities and food and hot chocolate vendors, said Ginny Reinhold, Mohave County Parks office specialist and one of the event's organizers.
Santa's Hualapai Wonderland is in its seventh year and draws hundreds of people from Kingman, Bullhead City, Laughlin, Lake Havasu City and Needles. The cabins and ranger station are decorated with lights and one of the cabins is used for making ornaments and other Christmas crafts.
"It's very popular," Reinhold said. "When we have snow, it's even more popular, but we're not going to have it this year. It's not in the forecast."
Along with Mohave County Parks staff, more than 20 volunteers work on turning the park into a holiday spectacle.
Santa's Hualapai Wonderland has been held for two weekends in the past, but this year Santa will fly over to Davis Camp Park, 2251 Highway 68 in Bullhead City, for Santa on the River Dec. 13-14.