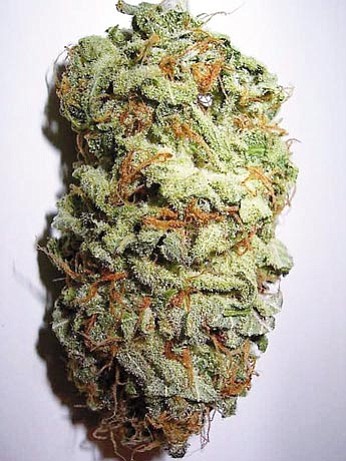 Originally Published: December 7, 2014 6 a.m.
KINGMAN - The results of the 2014 Arizona Youth Survey are in, and officials aren't happy with the increase in marijuana use they see on the state and county level.
The Arizona Criminal Justice Commission conducts the youth survey every two years, tracking more than 48,000 students in eighth, 10th and 12th grades. It measures teen drug use and other risky youth behavior in each of the state's 15 counties by past 30-day and lifetime use.
According to the new survey results, after alcohol, which remains the top drug among 10th and 12th graders in Arizona, marijuana is now the second most-used drug, surpassing tobacco, which came in second last year. A total of 32.4 percent of 10th graders and 44.7 percent of 12th graders report using marijuana during their lifetime.
While the majority of students say they obtained it from a friend or at a party, an increasing number of students report getting it from a medical marijuana cardholder. That amounts to 10.9 percent of eighth graders, 13.4 percent of 10th graders and 17.7 percent of 12th graders.
In Mohave County, marijuana use among 10th and 12th graders is higher than the state averages. A total of 38.9 percent of 10th graders and 52 percent of 12th graders report using marijuana in their lifetime. Also, 15 percent of eighth graders admitted using marijuana at least once.
"We see the drug-use trends coming down, but there is a growing threat of legalization of marijuana," said Leslie Bloom, chief executive officer of DrugFreeAZKids.org. "So while I'm pleased with the survey results, I'm also concerned. Marijuana is not a harmless drug, and there's so much work to do yet to get that message out"
Greater availability and accessibility of any drug, including marijuana, puts children at risk for a lifelong struggle with addiction, said Bloom. Also, society's messages impact youth attitudes and behavior, with efforts to legalize marijuana contributing to youth perceptions that smoking pot is safe and socially acceptable.
Insights on marijuana use among Arizona youth - including results of the Arizona Youth Survey - will be shared during an upcoming presentation called "Marijuana Harmless? Think Again!" Shana Malone, a senior research analyst with the Arizona Criminal Justice Commission, will discuss the fallacies surrounding the popular drug.
Malone will be joined by Yavapai County Attorney Sheila Polk, as well as Elizabeth Kempshall, executive director of the Arizona High Intensity Drug Trafficking Area. HIDTA works to reduce the impact of illegal trafficking and drug use throughout Arizona, and Mohave County is one of its members. Kempshall will discuss marijuana legalization and its impact on Mexican drug cartels.
Overall, data recently released from the youth survey shows that Arizona continues to make progress in driving down youth drug use, said Bloom. Past 30-day and lifetime use of alcohol, tobacco and other drugs decreased from 2012 to 2014. The use of hallucinogens and steroids remained stable.
Still, any substance use by children is unacceptable, said Bloom. And with more than a third of students reporting it in the past 30 days, officials are reminded they must remain vigilant in prevention and education work with parents, families, health care professionals and communities.
While alcohol is still the top substance of choice among Arizona students, its use statewide among all grade levels surveyed is down 33 percent, from 69 percent in 2002 to 46 percent in 2014. Students reported they mostly got it at a party or gave someone money to buy it for them.
In Mohave County, alcohol use also is higher than the state average, with 34.1 percent of eighth graders, 51.1 percent of 10th graders and 75.5 percent of 12th graders reporting they have consumed it in their lifetime.
Also, prescription drug use by Arizona youth is down, with 13 percent of students reporting it. But in Mohave County, prescription drug use remains higher than the state average, with 9.4 percent of eighth graders, 21.4 percent of 10th graders and 25.8 percent of 12th graders using at least once.
"The thing that's really good in Mohave County is that overall, the trend is the same as it is at the state level," said Bloom. "Youth use is steadily coming down. This is a health issue everyone needs to be concerned about, and we have to do a lot more education, as well as maintaining and expanding our prevention activities."
Click for home delivery with comics, grocery deals, inserts, TV listings, coupons and more
More like this story