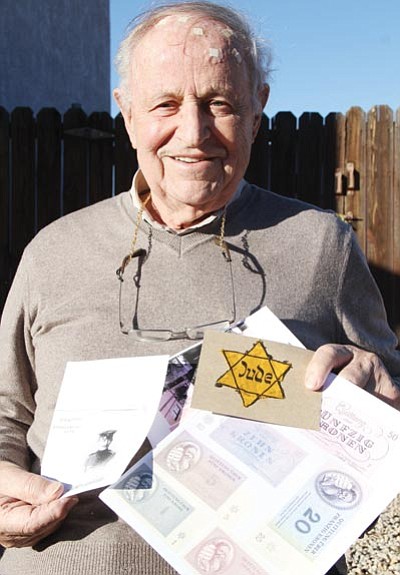 Originally Published: December 7, 2014 5:59 a.m.
KINGMAN - When Stephanie Weitzenberg moved from New York to Kingman in July to teach, little did her new students know that she would be illustrating some of their history lessons with her own grandfather.
Weitzenberg, a social studies teacher at White Cliffs Middle School, recently brought in her 91-year-old grandfather, Kurt Goldschmidt, when he and other family visited from New York. Goldschmidt is a Holocaust survivor whose testimony was recorded by the United States Holocaust Memorial Museum in Washington D.C.
Eighth-grade students at the school, who are studying World War II as part of their social studies curriculum, listened intently as Goldschmidt described his time at Theresienstadt, a Nazi concentration camp in the Czech Republic. Goldschmidt was born and raised in Germany as Adolf Hitler rose to power.
"I'm speechless after hearing this story," said Austin Day, 14. "It was like listening to an adventure through hell and back. Six million Jews died in the Holocaust, and he was lucky he survived. It makes it more real to hear what happened from a person in front of you instead of reading it in a book. It's just not the same."
The Holocaust didn't have a big effect on Goldschmidt during his childhood because he came from a mixed marriage - his father was Jewish and his mother was Christian - and was more acceptable. Hitler had taken power in 1933 and in 1935, the Nazi Party issued the Nuremberg Laws, which declared the descendants of mixed marriages as fully Jewish.
In 1941, Hitler began deportations of Jewish citizens and Goldschmidt, who was 18 years old, was called upon to board a transport to Minsk, Russia. But just before the transport left, his mother was able to save him by questioning his mixed ancestry, and he remained at home until 1943, when his neighborhood was bombed.
At the end of 1944, he was called in by the police and told that after an investigation, he had been declared as full Jewish and was to report for evacuation. Goldschmidt was sent with about 20 other people, mostly from mixed marriages, on a train to Berlin, then transported to Theresienstadt. There, they were greeted by barking dogs, Nazi protection squadrons and Czech police.
Gas chamber
After lice inspection and being given a bug-infested bed, Goldschmidt was assigned work helping to move a small section of wall so Nazi squadrons could have room to practice target shooting. After that, he was assigned with others to build an air-raid shelter, which he later discovered was a gas chamber.
Finally, Goldschmidt was liberated and returned to Hamburg to find his mother and sister in good condition. He attended school for social work and was employed in that field, then decided in 1948 to come to America. Here, he made his career as a social worker in New York City, where he and his wife, Sonja, now 94, raised a family.
"This is the first time I've talked about this at a school," said Goldschmidt after students took pictures with him. "I think the kids were interested. It's very important for them to know about the Holocaust, because many innocent people were murdered there. If violence in the world isn't identified and stopped, it will repeat itself."