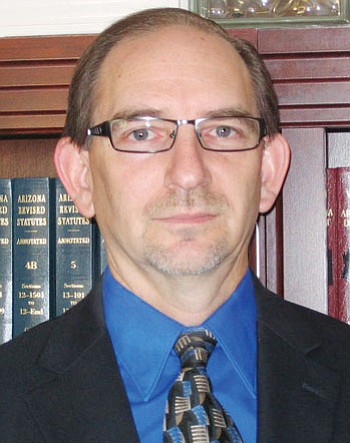 Originally Published: December 8, 2014 6:01 a.m.
KINGMAN - Longtime Kingman defense attorney Billy Sipe Jr. on Thursday was appointed to take over for Judge Derek Carlisle in Mohave County Commissioner Court, where, like Carlisle, he also will serve as a judge pro tem.
Presiding Judge Charles Gurtler announced the appointment in an email.
Carlisle won the election last month to Mohave County Superior Court Division 2, which is located in Lake Havasu City.
Sipe, who is a certified criminal law specialist, has spent his life in Kingman and returned home after graduating from law school more than 25 years ago, said Gurtler.
Sipe obtained his bachelor's degree at Northern Arizona University in Flagstaff and went to law school at the University of Puget Sound in Tacoma, Wash.
"Mr. Sipe's experience and knowledge of criminal law will be a great benefit as he moves into this position and the court looks forward to having him serve on the bench," said Gurtler.
"I was born and raised here," said Sipe, 51. "I left for college and then I came back. It's important to me to be able to serve in this capacity. It's an honor and I'm humbled."
Sipe said he has reduced the number of cases he handles in recent months and he expects he might have to turn over no more than "two or three" current cases to another attorney. He also has to shut down his practice and find a renter for his office on Stockton Hill Road.
Sipe will preside over criminal matters and orders of protection almost exclusively, but because voters did not elect him, state law precludes him from handling death penalty cases and matters dealing with election issues.
Funding for the position comes from the board of supervisors, which utilizes gap-fill grant revenues. The Mohave County Board of Supervisors must appoint someone to the position each year and they must ratify Sipe's appointment, an action that could occur at the board's next meeting. Gurtler said Sipe would begin on Jan. 5. He will begin his judicial education later next month.
Click for home delivery with comics, grocery deals, inserts, TV listings, coupons and more